Quick Updates for 2010-04-06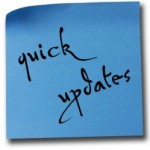 Member News
SFWA member Paul Cornell will be the Guest of Honour at the 2012 Eastercon.
Campbell nominees for Best New Writer: Saladin Ahmed, Gail Carriger, Felix Gilman, Seanan McGuire, and Lezli Robyn.
Jon Courtenay Grimwood: 'neoAddix" my 1st, worst and rarest novel -long out of print- is now a free download.
Industry News