Quick Updates for 2010-04-24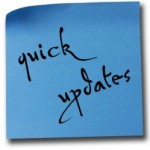 Resources
Anytime you have member or industry news, just DM @sfwa or use our Contact Us page and select "Quick Updates"
Member News
SFWA member Michael Canfield's short-short story "People with Earplugs" is up on EverydayWeirdness.com.
The Nebula Awards interviews Richard Bowes.
Congratulations to SFWA member Tony Pi who sold "The Gold Silkworm" to Fantasy Magazine.
SFWA member Leah Cypess's Mistwood is the "Big Idea" essay at John Scalzi's blog.
Video of SFWA member Lawrence Schimel reading in Seville (starts at minute 7).
Congratulations to SFWA Tina Connolly who sold "As We Report to Gabriel" to Fantasy magazine.
The short film, "Bottles," based on SFWA member Samantha Henderson's story, screens at7:30 May 4 in Hollywood. See the trailer here.
SFWA member Mary Robinette is giving away an Advanced Readers Copy of Shades of Milk and Honey on Library Thing.
Congratulations to SFWA member Jenn Reese who has a 2-book deal with Candlewick for her middle grade SF series.
Industry News
Victoria Strauss: More delays for Google Book Settlement? Judge Denny Chin promoted to 2nd Circuit Court of Appeal.
To celebrate their 30th birthday Tor.com is giving away books.