Quick Updates for 2010-06-06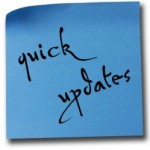 Member News
View the book trailer for MOONSHINE by SFWA member Alaya Johnson.
Patented DNA Anthology (Pill Hill Press) will include SFWA member Glenn Lewis Gillette's story "Time Enough for a Reuben".
Nebula winner THE WINDUP GIRL author Paolo Bacigalupi's talk to Google Authors is on You Tube.
Congratulations to SFWA member Catherynne Valente, whose novel PALIMPSEST won the Lambda Award for Best LGBT SF/Fantasy/Horror.
Welcome to SFWA's newest Active member Jacey Bedford, with 3 short story sales.