Quick Updates for 2010-06-03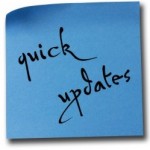 Member News
The Hollow Crown, a Crosspointe Chronicles book by SFWA member Diana P. Francis releases today.
Congratulations to SFWA member Jim C. Hines whose novel RED HOODS'S REVENGE got a starred review in Publishers Weekly.
SFWA Member Lisa Mason is delighted to announce that SUMMER OF LOVE, A TIME TRAVEL has been published on Amazon Kindle.