Quick Updates for 2010-07-08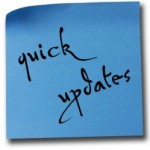 Member News
SFWA Member Harry Connolly is pleased to announce that German rights to his novel CHILD OF FIRE have been sold to Otherworld Verlag.
SFWA member Mary Robinette Kowal has released a sample chapter of SHADES OF MILK AND HONEY.
SFWA member Elizabeth Bear is running a short poll on the ages of SF writers.
Congratulations to SFWA member Matthew Johnson, who just sold his story "Long Pig" to Daily Science Fiction.
Welcome to SFWA's newest Associate member, Christopher Howard. Read his qualifying story, published by Fantasy Magazine.
Welcome to SFWA's newest Active member Tyler Franck, writing as James S.A. Corey w/Daniel Abraham. 1st book Leviathan Wakes (Orbit 2011).
SFWA member Samantha Henderson's story "The Red Bride" is up at Strange Horizons.
SFWA member Jim C. Hines'novel RED HOOD'S REVENGE comes out today.