RIP James P. Hogan (1940 – 2010)
James P. Hogan (1940 – 2010), the Seiun and Prometheus Award winning author and long-time SFWA member, passed away suddenly at his home in the Republic of Ireland, on July 12.
Hoga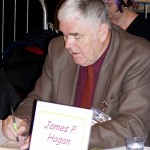 n wrote over 30 works of fiction and non-fiction, including the "Giants Series," which began with his debut novel, Inherit The Stars.
Hogan's science fiction drew heavily on his training as an engineer and his interest in empirical scientific method.
His latest book, Migration, was released in May.
Hogan is survived by his wife, Sheryl, and six children.