Quick Updates for 2010-07-13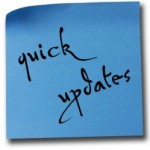 Member News
Congratulations to SFWA member Paolo Bacigalupi who has just won the John W. Campbell Memorial award.
Congratulations to SFWA member James Morrow who has just won the Theodore Sturgeon Memorial award.
Pill Hill Press announces "Patented DNA" with SFWA member Glenn Lewis Gillette in list of authors.
SFWA members will be instructors for writer's workshops at NASFIC in Raleigh, NC.
SFWA members Kendall Evans & Samantha Henderson won the 2010 Long Form Rhysling for their collaborative poem "In The Astronaut Asylum."
The SF Poetry Association Membership awarded the status of Grand Master to SFWA member Jane Yolen.
Welcome SFWA's newest Active member Naomi Kritzer, author of FREEDOM'S GATE.
Congratulations to SFWA member Caren Gussoff who is a 2010 Elizabeth George Award winner.
We have an autograph table set up at NASFIC for SFWA Associate & Active members. Sign up here.
Volunteer Opportunity: Going to NASFIC? Want a chance to meet SF authors & readers? Volunteer to staff SFWA's table.
Industry News