Quick Updates for 2010-07-20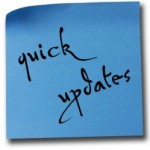 Member News
Welcome to SFWA's newest Active member Bruce Cordell, author of CITY OF TORMENT.
SFWA member James P. Hogan passed away last weekend. Read the free ebook of his INHERIT THE STARS.
SFWA member Ann K. Schwader has won the 2010 short form Rhysling Award from the Science Fiction Poetry Association.
Welcome to SFWA's newest Associate member, Arinn Cirulis who sold "Sisterhood of the Skin" to Fantasy &Science Fiction.
Armageddon or Paradise? Why choose? SFWA member Edward M. Lerner announces re-release of both titles for the Kindle.
SFWA member Mary Robinette Kowal announces launch party for her novel SHADES OF MILK AND HONEY at NASFIC.
Congratulations to SFWA member Justin Achilli whose novel DEMIMONDE will be translated into Italian by Asterion Press.
Former SFWA president Norman Spinrad is now blogging about SF, the industry and other topics here.
Welcome to SFWA's newest Active member Gareth L Powell author of THE RECOLLECTION (Solaris, 2011).
SFWA member Holly Black is doing 2 surprise signings in the next 2 weeks in Greensburg, PA and Spartanburg SC.
Industry News
Resources