Quick Updates for 2010-08-12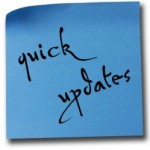 Member News
Welcome to SFWA's newest Associate member, Wendy Wagner with a sale to John Joseph Adams' Way of the Wizard.
Welcome to SFWA's newest Active member Michelle Marquardt, author of BLUE SILENCE (RandomHouse).
Welcome to SFWA's newest Active member Kevin David Anderson, author of NIGHT OF THE LIVING TREKKIES.
SFWA member Charlene Teglia has sold short stories to Running Press and Cleis Press, German rights for ANIMAL ATTRACTION to Rowohlt.
Congratulations to SFWA member Paolo Bacigalupi whose novel THE WINDUP GIRL won the John W. Campbell Memorial award.
Industry News
From SFWA member Wendy S. Delmater: Abyss & Apex now reviews small press SF/F books. Publishers are encouraged to inquire.