Top Ten Gifts for Fantasy or Science Fiction Writers
by William T. Vandemark
As we swing into gift-giving season, here's a list of Top Ten Gifts for Fantasy or Science Fiction Writers.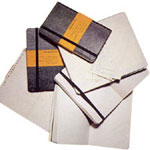 10. A moleskine. Sometimes, inspiration can be found in the tools of a master. Purportedly, Oscar Wilde, Vincent Van Gogh, Pablo Picasso, Ernest Hemingway, and Bruce Chatwin used moleskines in one form or another.
---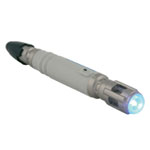 9. Doctor Who Sonic Screwdriver. If you've a troublesome TARDIS or a lock that needs picked, give this a try. It's unlikely to work, but at least you'll have a pen to jot down any ideas for that episodic SF TV show you've always wanted to write.
---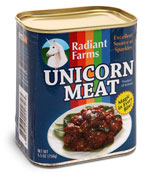 8. Canned Unicorn Meat. Looking for hors d'oeuvres for the office party? Need to bring some seasonal cheer to the in-laws? How can you go wrong with wholesome unicorn? Now with more sparkles!
---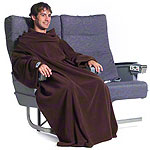 7. The Slanket. Do you long to be a Jedi Master? Perhaps an unassuming Jawa is more your style. If so, the Slanket may be for you. Buyer beware: there are imitations out there. Always check your Slanket's midi-chlorian count before purchase.
---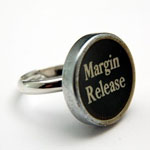 6. Typewriter Key Jewelry. From rings, bracelets, pendants, and earrings—you name it—an abundance of Etsy Stores provides a wide sampling of styles and keys.
---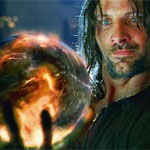 5. A Palantir. Who needs an iPhone when you have a palantir? This "seeing stone" is the original Wi-Fi multimedia device. It comes with built-in video conferencing and includes GPS and real time Facebook. See what your friends are up to, before they're up to it. Currently out of stock at most retailers.
---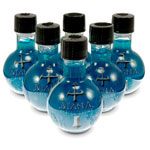 4. A Six Pack of Mana. Need a chaser after chowing down on unicorn? Have a bottle of Mana. Warning: This stuff is hyper-caffeinated; keep it out of the reach of children and the undead. Great for late night gaming or writing on deadline.
---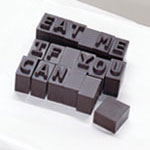 3. Typolade Chocolate. What does chocolate have to do with a fantasy or science fiction writer? Who cares? This is chocolate we're talking about! Still, a personal touch is nice, so head to Typolade and order chunks of letterpress-grade chocolate with which to send messages of love.
---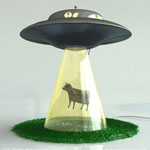 2. The Alien Abduction Lamp. This is a limited edition steel lamp, with glowing aliens in the cockpit, a 3-stage UFO Control antenna, and genuine artificial grass. Includes levitating bovine!
---
::Drum roll::
And the number one gift idea for a fantasy or science fiction writer is…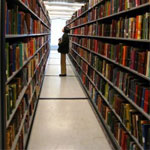 1. A good book. Seriously, is there anything better?
Have a favorite writerly gift that's not listed above?  Please add it to the comments section.
Happy Holidays from SFWA!