Consumer Watchdog Conference with Michael Capobianco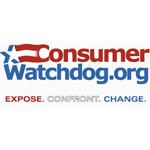 The Consumer Watchdog Conference will be webcast live Starting at 8:30 a.m. ET (5:30 a.m. PT) Wednesday, Dec 1st.
From their dispatch:
The FTC Bureau of Consumer Protection Director David Vladeck will discuss a soon-to-be-released FTC report on online privacy and establishing an online "Do Not Track Me" list at a conference convened by Consumer Watchdog Wednesday at the National Press Club.
Vladeck will offer an 8:45 a.m. keynote speech about the FTC's much anticipated report, which is expected to be released in advance of Thursday hearing on "Do Not Track Me" legislation in the House of Representatives.
At 1 p.m., the Department of Commerce's Associate Administrator for National Telecommunications and Information Administration, Daniel Weitzner will speak. Commerce is also on the verge of releasing a report on online privacy protections.
At 1:45 p.m., a panel with Michael Capobianco (SFWA) will discuss the internet's impact on creative arts.
Head to the Consumer Watchdog for more information.