Guest Post–An Interstitial Moment: Metaphor
by Jane Yolen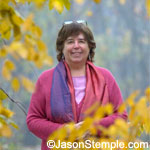 I want to talk for just an Interstitial Moment about metaphor, and these thoughts come to you compliments of Faerie Con where hundreds of folk, some quite young, some middle aged, and some old enough to know better have been dressing for days in rather suggestive costumes–bustiers, codpieces, artfully placed flowers and leaves, painting themselves green or gold or other landscape colors. And wings: the most glorious painted, crafted, filigreed and decorated wings. As I sat at my table in the Faerie Market selling (hawking?) my books, a company of Green Men (yes leaves, masks, bells, sticks, etc.) came by singing, blessed my booth, left me four acorns and a sprig of rosemary.

And it's been in good fun.
But metaphor. . . I promised to speak of that. Metaphor is seeing one thing in terms of another. My love is a red rose. (Beautiful? Soft? Momentarily in bloom? Full of thorns?) The Lord God spoke to me from a burning bush. (Thunder? Passion? Revelatory? Bi-polar moment? Narcoleptic fit?) Zeus came to me in a shower of gold. (Seduction across class lines? Semen? Date rape?)
You see the problem. One person's core beliefs may be taken as a metaphor by another person.
We all read the world through metaphor. We all speak of difficult things in terms of something else. When one of my children had a possible terminal illness (don't worry, said child is fine and this was years ago) my husband and I spoke of the black line ruled across our lives though there was no physical line with magic marker or otherwise drawn anywhere. We spoke of the dark days. (It was actually late spring as I recall.) We speak this way because we cannot cope otherwise. Directness in certain areas–like love, like death, like religion, like politics–are best handled as Emily Dickinson wrote, "On the slant." Metaphor is nothing if it is not the perfect slant.
The problems arise when the metaphor is mistaken for the message. When it is read flatfootedly. (A metaphor itself there.) When it is believed to be true on the face of the thing itself. My love IS a red rose. My God DID speak from a burning bush. I AM a Mama Grizzly. You ARE the Very Devil.
And as some of the wonderful Green Men, Pucks, Oberons and Mabs I met this weekend at Faerie Con told me, they really did believe in fairies. And I went off muttering, "Metaphor, folks, metaphor." Each of us certain in our own minds of the rightness of our convictions. In this way countries fail, houses are divided, friendships sundered, wars and battles and twin towers fall.
—
Jane Yolen's 300th book was just published Fall 2010. A past president of SFWA, she is a New York Times bestselling author who has been named a Grand Master by both World Fantasy and SFPA. Her books and stories have won two Nebulas, a Rhysling, several Dwarf Stars, three Mythopoeic awards, NESFA's Skylark Award (which set her good coat on fire), as well as a National Book Award nomination, the Caldecott Medal, two Christopher Medals, the Jewish Book Award, the Golden Kite Award, and many others. Six colleges and universities have given her honorary doctorates.
This post originally appeared in TELLING THE TRUE, an online journal. Copyright © 2010 by Jane Yolen. Photo of Jane Yolen courtesy of Jason Stemple. Copyright © by JasonStemple.com.