Quick Updates for 2010-12-18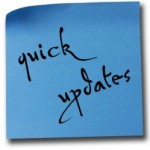 Member News
SFWA member Jennifer Brozek has a new "Dice & Deadlines" column out about multi-authored projects.
SFWA member Matthew Johnson's story "The Dragon's Lesson" is up at Kasma Science Fiction.
SFWA member David Levine's story "Written on the Wind" (from sff.net anthology Beyond the Last Star) will be podcast on Escape Pod.
The first three chapters of SFWA member Paul S. Kemp's forthcoming Star Wars novel, DECEIVED, are now posted online.
Industry News
The Arthur C. Clarke Award is facing financial difficulties.
If you sell ebooks directly, SFWA member Andrew Burt is doing a survey on optimal ebook pricing.