Nebula Awards Interview: Catherynne M. Valente
by Tehani Wessely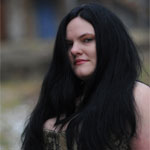 Catherynne M. Valente won the Andre Norton Award for Young Adult Science Fiction and Fantasy for The Girl Who Circumnavigated Fairyland In A Ship Of Her Own Making.
Congratulations on the Andre Norton nomination! The Girl Who Circumnavigated Fairyland in a Ship of Her Own Making started life as a book within a book (Palimpsest, released February 2009). I know the journey of how Fairyland came to be published is on your blog, and it is both fascinating and heartwarming. I'd love to know more about the actual writing though. How much of the story did you have to start with, and what was the serialisation process like?
To be honest, all I had was what I had written in Palimpsest, which amounted to about a paragraph: the first paragraph of the first chapter. I had no idea what that book was actually about, or any notion of characters beyond September and the Green Wind. But the book as it exists in the world of Palimpsest presented certain rules, and I always find it wonderful to write confined to a set of rules. It was a portal fantasy, one meant to be very like the Oz and Narnia books of the early 20th century. It had an unusual cadence, sentence structure, which was deeply inspired by JM Barrie and Peter Pan, with a lot of authorial asides and hints of adult material behind the child's story. It would not be a story about a girl wanting to get home. Not only is that my least favorite plot ever and a personal peeve with portal fantasies, but it's important thematically, within Palimpsest, that the protagonist formed an attachment to the book because the girl in it embraced her new situation and didn't reject it. Now, there's actually a pretty determined narrative in those rules—all that was left was to write, well, everything else.

Serialization meant I couldn't go back and change anything. If I'd established something, it stayed established, even if I didn't like it. That made the book a little like a puzzle—the further I went along the more immovable the pieces got, and the solution the various mysteries of the Marquess and the nature of Fairyland fell into place in my head the way the solution to a murder mystery does. Given X and Y, which cannot be changed, the end must be Z. That was a fascinating process, and I loved it. I also stayed very far ahead of the posting schedule, always a minimum of four chapters ahead. I finished writing the book when readers were getting the sixteenth or seventeenth chapter, so I never stressed myself out too much with having to have a new chapter each Monday, because it was already done—I think that's really important for serial fiction, or you just make yourself crazy with deadlines.
I enjoyed listening to the audio files of the first few chapters online, and wondered what the reasons were for not continuing that process?
It was getting to the point that recording, editing, and wrangling the audio was taking much longer than writing the chapters and I just ran out of time, with the craziness of the end of last year—I finished another novel in October and got married in November. I feel terrible about it (though more than half of the chapters are there) but we've sold audio rights to the series, so have no fear—there will be a full audio version.

Were you surprised by how popular, how "viral", Fairyland became? What do you think gave it this impetus and its subsequent success?
I was shocked. I have a good readership and extraordinary fans, and I thought they'd like it. I had no idea it would grow like it did. After all, it's no mean feat, even now, to get people to read an entire novel on a computer screen. Obviously, social media is the big answer—Twitter and Livejournal, and to a lesser extent Facebook, lit a fire under this thing. I'm fortunate to have friends in other writers who linked to it, and wonderful fans who immediately started a fan community and created all kinds of fan art. But it was a perfect storm of the right project, a writer in need (I did this because our savings had run out when my partner was laid off and stayed that way for nine months or so), and a fair bit of luck. Neil Gaiman, Warren Ellis, John Scalzi, The Guardian and BoingBoing linked to it, and that just brought a tremendous amount of attention. I have no idea how some of those people got word of it, but they did, and it snowballed. I'd like to think it wouldn't have mattered if the product wasn't good, but you basically can't go viral without engaging some of the hub blogs, and virtually all of the SF blogosphere talked about Fairyland.
I think it also helped that it was a YA project, something parents could point their kids to, something that was work-safe (Palimpsest is emphatically not), and easy to love. Fairyland was written for the kid I used to be, the kids we all used to be, and I think part of the reason it moved so fast was that it spoke to grown-ups about the state of being a kid, and that's pretty much gold, as far as intense fandom goes.
And now it's to be published in hard copy! That's a wonderful ending to the Fairyland saga, but I imagine it means more work for you. Are there any major changes planned for this version? What sort of editorial process will it require to make the change from online serial to print book?
We've already more or less completed the editorial process. Since it's already up online there's not many changes to be made. The biggest one, I'd say, is that September is twelve now, instead of eleven, which will make her a teenager in the sequel. We're also adding some fun things, like a dramatis personae and an afterword, as well as an original short story in the universe to come out online just before the book's release. But it's been pretty smooth for me, the transition to print. Not at all a painful editorial process. I had to take out the word "adultery." That was about the size of the changes.
A sequel! That's exciting news — can you tell us a little about it? Why was it important for September to be a teenager?
It's called The Girl Who Fell Beneath Fairyland and Led the Revels There. It concerns the fate of September's shadow, who is up to no good back in Fairyland, as shadows are wont to be. The age change from eleven to twelve, and thus to thirteen in the sequel, allows me to delve a little more into romantic plots and September's coming of age, becoming a different person, learning about herself and about growing up. An eleven year old isn't quite there yet.
Fairyland won the CultureGeeks' Readers' Choice Award for the Best Web Fiction of the Decade – what does this sort of recognition, and the Andre Norton nomination, mean to you as a writer?
The two of them mean different things to me. The CultureGeek Award was all about indie fans rallying, about how a little nothing online novel can be counted along juggernauts of geek culture, and even win. There's no plaque or check, the meaning is cultural—I could go up against the biggest phenomenons out there and not be laughed off of the internet. That meant a lot.
The Andre Norton nomination…I never thought it would happen. From the moment I found out it was eligible (thank you Mary Robinette Kowal!) I tried not to hope. I just didn't think there was any way my little project could compete with bestsellers and paper books. But the Norton means legitimacy. It means it wasn't just about a popular blogger needing to pay the rent, or a momentary fad that got linked by the big guys. It means the book had quality beyond its origin story. It's a lot like the day we sold Fairyland to Feiwel and Friends: it's not just a viral self-published goofy web thing anymore. It's real, all grown-up, and just as good as anything traditionally published last year. That's an amazing thing, especially for someone who's never published YA before, never been anywhere near the Nebula ballot. Fairyland has become more than I ever imagined when I sat down to begin it last June. It is truly a ship of our own making — and I say "our" because something like this can never just belong to the author. It belongs to everyone who read it and talked about it and loved it, invested in the story, waited for Monday morning to roll around for four months.
So this was your first foray into YA – do you think you'll continue to write for this age group outside of the Fairyland world?
I have another completed YA novel called The Alchemy of Winter, set on Lake Erie, that I do hope to sell someday and continue with. I do like writing for younger readers, though it has its own challenges and I can't quite go to the same places I do in my adult work. It's profoundly satisfying to write — essentially — what I wanted to read as a child. I also want to continue in the Fairyland world as long as I can. I like it there.
Given the constraints of the serial writing process you mentioned earlier, was there a temptation to "fix" anything? Anything you would have re-written differently if you hadn't already published those earlier chapters?
Honestly, no. I love the book as it stands, and I'm proud of it. I was hyper-conscious of not screwing anything up that I couldn't fix later while I was writing it, but now I look at it and only see the whole. A kind of fairy machine that works because each part is turning in unison, and I can't take anything out, or it would break it. We'll certainly see how different writing the sequel will be!
Catherynne M. Valente was born on Cinco de Mayo, 1979 in Seattle, WA, but grew up in in the wheatgrass paradise of Northern California. She has three brothers and a sister. She graduated from high school at age 15, going on to UC San Diego and Edinburgh University, receiving her B.A. in Classics with an emphasis in Ancient Greek Linguistics. She then drifted away from her M.A. program and into a long residence in the concrete and camphor wilds of Japan.
She currently lives on a small island off the coast of Maine, with her partner, two dogs, and one recalcitrant cat, having tumbled back to America and the otherworldly New England coast.
Her poetry and short fiction can be found online and in print in such journals as The Pedestal Magazine, Fantastic Metropolis, The Journal of Mythic Arts, Clarkesworld Magazine, Jabberwocky, Mythic Delirium, Lone Star Stories, Fantasy Magazine, Electric Velocipede, Cabinet des Fees, and Star*Line, and anthologies such as Interfictions, The Book of Voices, Salon Fantastique, The Minotaur in Pamplona, Paper Cities, Clockwork Phoenix, and featured in The Year's Best Fantasy and Horror #18 and #21. She received a Special Commendation for Service in the Arts from California State University in 2003. Her story Urchins, While Swimming, received the Million Writers Award for best online short fiction in 2006. Her poem The Seven Devils of Central California won the Rhysling Award in 2008. Her poem The Dance of Uzume-no-Ama and her short story Bones Like Black Sugar have also been shortlisted for the Spectrum Award. Her poems have been nominated for the Pushcart Prize a total of nine times. Her critical series on feminine archetypes in Greek and Roman drama has appeared in successive issues of the International Journal of the Humanities.
Her first chapbook, Music of a Proto-Suicide, was released in the winter of 2004. Her first novel, The Labyrinth, was published by Prime Books in 2004, and her second, Yume no Hon: The Book of Dreams, was released in the summer of 2005. Her third novel, The Grass-Cutting Sword, came out in the summer of 2006. Under the Aegis imprint, Prime has also published two collections of her poetry, Apocrypha, and Oracles. Her third volume of poetry, The Descent of Inanna, was published by Papaveria Press early in 2006.
Her fourth major project, a duology of original fairy tales, The Orphan's Tales, was released from Bantam Spectra in the fall of 2006. Volume I, In the Night Garden, went on to win the James Tiptree Jr. Award for the expansion of gender and sexuality in speculative fiction, and has been nominated for the World Fantasy Award. Volume II, I n the Cities of Coin and Spice, came out in the fall of 2007. As a whole, the series won the Mythopoeic Award for adult literature in 2008.
Her next novel, a baroque urban fantasy titled Palimpsest was released from Bantam Spectra in February 2009.
Her first short story collection, Ventriloquism, will be released by PS Publishing in late 2010.
Tehani Wessely was a founding member of Andromeda Spaceways Inflight Magazine in 2001. Now firmly entrenched in Australian speculative fiction and small press, she has edited for Twelfth Planet Press (among other duties), judges for the Aurealis Awards, reads far more in one genre than is healthy, and writes reviews, non-fiction and interviews for ASif!, Fiction Focus and Magpies. In her spare moments, she works as a Teacher Librarian and enjoys her husband and three children.
Tehani is the editor of ASIM #4, #16, #27, #31 and #37, three Best Of ASIM e-anthologies, co-editor of ASIM #36, the Twelfth Planet Press anthology New Ceres Nights and other projects. She is currently working on an anthology of children's stories titled Worlds Next Door, and a reprint anthology of Australian alternate mythologies from her own press, FableCroft Publishing.