The Banff Centre: Call for Applications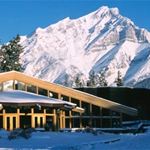 The Banff Centre, located in Banff National Park of Canada, has issued a press release that indicates they are accepting applications for upcoming courses.
"Arts programs are at the core of The Banff Centre. Programming supports the commissioning and creation of new work by individual artists and arts collectives, and provides resources for collaboration and applied research. Training and professional development at the post-graduate level in more than a dozen art forms including Aboriginal arts, music, theatre, dance, opera, literature, ceramics, print-making, painting, papermaking, photography, sculpture, audio engineering, digital film and video, and new media. Work is showcased in public performance, events, and exhibitions throughout the year, culminating in the annual Banff Summer Arts Festival."

Upcoming courses include:
Writing With Style
Spring program dates: April 17 – 23, 2011
Application deadline: February 15, 2011
Writing genres offered: first chapter novel, poetry, short fiction, creative non-fiction

Program director: Elizabeth Philips
Spring faculty: Wayne Grady, Audrey Thomas, Zsuzsi Gartner, Carolyn Smart

Whether you have attended many writing workshops or this is your first, Writing With Style will be an intense and transformative experience. Amidst a diverse community of writers, participants will encounter new ideas and gain confidence in their own style and voice, while shaping and editing their work-in-progress under the guidance of an experienced writer and editor.

Literary Journalism
Off-site manuscript development: May 2 – June 24, 2011
On-site residency: July 4 – 30, 2011
Application deadline: March 15, 2011

Program chair: Ian Brown
Faculty editors: Katherine Ashenburg, Don Gillmor

Literary Journalism offers eight established writers of non-fiction an opportunity to develop a major essay, memoir, or feature piece. A month-long residency enables writers to work on their manuscript during individual consultations with faculty and during round-table discussions. Participants are able to advance their professional development through work with the program chair, experienced and exacting faculty editors, and through interaction with each other, invited guest speakers, and with artists from other fields. In addition to a $2000 commission fee, writers accepted to this program will receive an award to cover the program fee and travel expenses.
They are also accepting applications for an on-going Self-directed Writing Residency, which offers "the time, space, and facilities for creative thinking, editing, and manuscript development. Writers in all genres are invited to apply."
For more information please contact:
1-403-762-6180 or 1-800-565-9989
arts_info@banffcentre.ca
www.banffcentre.ca/writing/