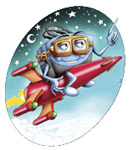 The folks at Renovation, the 69th World Science Fiction Convention, have sent out a reminder:
Monday, January 24, 2011

Reno, Nevada, USA – Renovation, the 69th World Science Fiction Convention, today issued a reminder that the deadline is fast approaching to gain the right to nominate for the 2011 Hugo Awards and John W. Campbell Award for Best New Writer.

To be entitled to submit a nomination ballot you must join Renovation as a Supporting, Attending, or Young Adult member by January 31, 2011, or have been a Supporting or Attending member of Aussiecon 4, the 2010 Worldcon. Nomination ballots must be received by Saturday, March 26, 2011, 23:59 PDT.

After the finalists are announced, all Supporting, Attending, and Young Adult members of Renovation (including all members who join prior to the closing date of the final ballot) will be invited to submit ballots to select the Hugo winners. Renovation members will also be eligible to nominate for the 2012 Hugo Awards to be hosted next year by Chicon 7, the 70th Worldcon, in Chicago, Illinois.

The Hugo Awards are the premier award in the Science Fiction genre, honoring Science Fiction literature and media as well as the genre's fans. The Hugo Awards were first presented at the 1953 World Science Fiction Convention in Philadelphia (Philcon II), and they have continued to honor Science Fiction and Fantasy notables annually for nearly 60 years.

More information about the Hugo Awards, including details about how to submit a nominating ballot, is available from http://www.renovationsf.org/hugo-intro.php.

For additional information, contact us at hugoawards@renovationsf.org.