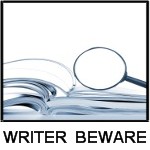 Posted by Victoria Strauss for Writer Beware
A short post, as I'm on vacation at the moment. (Why am I posting to the blog while I'm on vacation? Because I'm obsessive. There, I said it.)
Interview with Ann Crispin
Check out this interview with Ann Crispin, Pitfalls in the Writing Road. It highlights her work with Writer Beware–and also her upcoming book, Pirates of the Caribbean: The Price of Freedom (pub date: May 2011). It's the first Pirates book for an adult audience, and tells the story of how Jack Sparrow became Captain Jack Sparrow. It's a fabulous book (I've read it) so do stop by Ann's website and check out the exciting excerpts.
How Moral Are You?
Agent Richard Curtis reports that HarperCollins has added a morals clause to the termination provisions of its contract.
New language in the termination provision of the Harper's boilerplate gives them the right to cancel a contract if "Author's conduct evidences a lack of due regard for public conventions and morals, or if Author commits a crime or any other act that will tend to bring Author into serious contempt, and such behavior would materially damage the Work's reputation or sales." The consequences? Harper can terminate your book deal. Not only that, you'll have to repay your advance. Harper may also avail itself of "other legal remedies" against you.
What was that about there being no such thing as bad publicity?

Curtis says he isn't aware of any other publisher with a morals clause, but a couple of years ago, Random House UK added similar language to its children's book contracts.
Ursula Le Guin has posted a seriously tongue-in-cheek response.
New Publishing Service Collaboration: Abbott Press
I said it would happen again, and it has. Another major group has partnered with Author Solutions to create a pay-to-play division.
Writer's Digest is rolling out Abbott Press, which will provide publishing services starting at $999 and ranging all the way up to $8,299. A typical ASI-style roster of "marketing" services is available a la carte.
Books in two highest-priced packages will be eligible to receive an editorial review, which may lead to the granting of the Writer's Digest Mark of Quality, described as "a prestigious mark to convey the book's excellence."
I haven't examined the website in detail yet, but it looks very similar to those of the other ASI collaborations–Cross Books (LifeWay), West Bow Press (Thomas Nelson), DellArte Press (Harlequin), and Balboa Press (Hay House)–complete, unfortunately, with the standard ASI propaganda about "indie" publishing.
In light of the new frenzy for electronic self-publishing, I wonder if costly print-centric publishing services like ASI aren't starting to feel faintly antiquated, and whether they can really, long term, be the cash engines that ASI's collaborators are obviously hoping for.