Quick Updates for 2011-01-29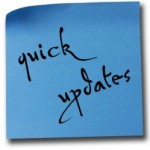 Member News
Part 2 of SFWA member Eugie Foster's story, "The Princes and the Golden Fish," is now out in the February issue of Cricket.
SFWA member Tobias Buckell with an interesting perspective on piracy as it relates to authors.
SFWA member Eric James Stone's story "Rejiggering the Thingamajig" is at Escape Pod.
SFWA member David Levine will be an instructor at this year's Alpha SF/F/H Workshop for Young Writers.
SFWA member Allan Cole presents Dancing With A Naked Lady While Watched By Guys With Guns: New Hollywood MisAdventure here.