Quick Updates for 2011-02-09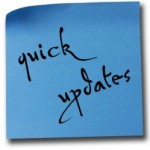 Member News
Welcome to SFWA's newest Active member, Gene Twaronite, with three sales to Highlights for Children.
Welcome to SFWA's newest Active member Alyxandra Harvey, author of OUT FOR BLOOD.
Welcome to SFWA's newest Active member Sarah Monette, author of CORAMBIS (ACE, 2009).
Welcome to SFWA's newest Active member, Amy Treadwell. Read one of her qualifying stories at Flash Fiction Online.
SFWA member Vera Nazarian is now a member of the Austen Authors group blog. Her debut is here.
SFWA member Allan Cole presents NEW HOLLYWOOD MISADVENTURE: Tracking Carlos Lehder To His Lair here.
SFWA member Brad Beaulieu is offering an ARC Giveaway of his debut novel WINDS OF KHALAKOVO.
SFWA member Kate Milford is pleased that her novel THE BONESHAKER made Locus's 2010 recommended YA reading list.
SFWA member Lena Coakley's YA short story "Mouse" will be published in an upcoming, as yet untitled, McGraw-Hill Ryerson anthology.
SFWA member Silvia Moreno-Garcia's story about a Mexican time-traveler is in AE The Canadian SF Review "The Death Collector."
SFWA member Marcy Rockwell handed in the final draft of the 1st D & D Online: Eberron Unlimited novel, THE SHARD AXE, due out 9/6/11.
SFWA member Rosemary Jones: "Junker's Fancy" keeps flying. New reviews keep coming for the 2010 Pill Hill story.
At Escape Pod: "Written on the Wind" by SFWA member David Levine, read by Mur Lafferty. Link.
Help a SFWA author research: John Cleaver needs some fake swear words for his new series: information here.