Quick Updates for 2011-02-16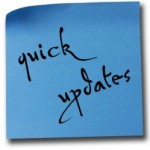 Member News
Congratulations to SFWA member Nalo Hopkinson who will be an Associate Professor specializing in SF & fantasy at the University of California Riverside.
Interview with SFWA member Ferrett Steinmetz on the hour-long Adventures in Sci-Fi Publishing podcast: here.
SFWA member Jennifer Brozek has sold her short story "Showdown at High Moon" to DAW anthology Westward Weird.
SFWA member Alaya Dawn Johnson discusses race in fantasy fiction in Revolution SF's latest podcast with Ika Koeck here.
SFWA member Ellen Kushner just signed contracts for Hebrew translation of SWORDSPOINT to be published in Israel by Graff Publishing.
SFWA member Karen Sandler has a release date on her first SF YA book, TANKBORN: September 2011.