Quick Updates for 2011-03-26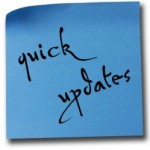 Member News
Welcome to SFWA's newest Associate member Thoraiya Dyer, author of "Breaking the Ice." (Cosmos, 2/11).
Congratulations to SFWA member Nancy Fulda who has won the Jim Baen Memorial Award.
SFWA member Sara Creasy's novel SONG OF SCARABAEUS is a finalist for the Aurealis Award for Best SF Novel.
SFWA member Anna D. Allen's collection of "non-genre" stories, MRS HEWITT'S BARBEQUE, is now available here.
SFWA Member Matthew S. Rotundo has sold his short story "Wet Work: A Tale of the Unseen" to Realms of Fantasy.
Industry News
Locus Online News reports that the Google Books Settlement has been rejected.