Guest Post: Klingons Invade WorldCon
by Lawrence M. Schoen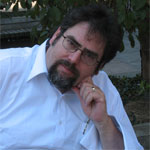 For much of the past twenty years I've been pushing Klingon. I've taught the language at conventions, given lectures at museums, and even appeared before the NSA and fielded questions about the warriors' tongue from three star generals. The media's been very kind to me, and I've been interviewed hundreds of times on the radio, in print, and on television, everywhere from the Tabloids to Time Magazine, from the evening news on all the major US networks to Jon Stewart's The Daily Show. I'm the person responsible for the "restoration" of Shakespeare's Hamlet and Much Ado About Nothing in Klingon, as well as publishing translations of the Epic of Gilgamesh and the Tao Te Ching. And through it all I've held fast to the message that the study of Klingon is a real intellectual endeavor, one should be taken seriously — as any language study ought to be — but that we needn't take ourselves too seriously for studying it. Admittedly, when trying to fend off the typical Trek associations of over-enthusiastic fandom and the old lines about living-in-the-parents'-basement, it doesn't hurt to have doctorate in psycholinguistics.
For the past seventeen years I've organized an annual conference for members of the Klingon Language Institute. Every summer, Klingon speakers from around the world have gathered for a long weekend of barking and spitting, singing and storytelling, impromptu game shows, off-the-cuff translations of Broadway musicals, and vaudeville routines. This year, we're trying something a little different: we're moving our conference, the qep'a' wa'maH chorghDIch, to Reno, Nevada, in the days before the WorldCon begins. We'll still be doing all the things we usually do, but on our last day we'll shift focus and actively invite the participation of newcomers to the language, be they Klingon fans who heretofore have only dressed and acted the part but lacked vocabulary and grammar, or anyone else with an interest in learning a bit of the fastest growing language in the galaxy. This is the opportunity we hope many have been waiting for, a chance to learn something of the language from its most fluent speakers!
So, consider arriving at Renovation a day early, and joining us on Tuesday, August 16th for an introduction to the language of the Klingon Empire. Details are in the latest Progress Report, and specifics can also be found here: http://www.speakklingon.info/
WorldCon issued this Press Release:

Reno, Nevada, USA – Lawrence M. Schoen will lead the Klingon Language Institute's annual summer conference (qep'a') in Reno this year, just before WorldCon. Klingon speakers from all over the world will show up for three days of intense Klingon wordplay and curse warfare. Participants will start trickling in on Saturday night, but the official verbal battles begin Sunday morning, August 14, and run through Tuesday evening, August 16. Advance registration is $35, or $40 at the door.
Commencing at noon on Tuesday, August 16, the day before the start of Worldcon, the Klingon Language Institute will provide introductory lessons for newbies, beginners, and visitors dressed in Federation pajamas (or other nonwarrior garb). Klingon grammarians will be on hand to help you use Klingon to chat, sing, play games, and insult one another. $10 advance registration fee is required for the introductory workshop, a small price to begin your interstellar linguistic education.
Interested? Visit www.speakklingon.info for more information or to register for either the main conference or the introductory workshop.
Plan on arriving in Reno early and learn to speak Klingon like a warrior!
qo'mey poSmoH Hol – – – language opens worlds
•••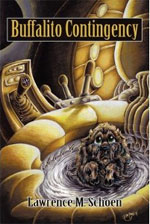 Lawrence M. Schoen holds a Ph.D. in cognitive psychology, with a special focus in psycholinguistics. He spent ten years as a college professor, and has done extensive research in the areas of human memory and language. His background in the study of the behavior and the mind provide a principal metaphor for his fiction. He currently works as the director of research and chief compliance officer for a series of mental health and addiction treatment facilities.
He's also one of the world's foremost authorities on the Klingon language, having championed the exploration of this constructed tongue and lectured on this unique topic throughout the world. He hosts a daily Klingon podcast from his blog. In addition, he's the publisher behind a speculative fiction small press, Paper Golem, aimed at serving the niche of up-and-coming new writers as well as providing a market for novellas.
In 2007, he was nominated for the John W. Campbell Award for best new writer and in 2010 received a Hugo nomination for best short story. His second novel, Buffalito Contingency comes out next month from Hadley Rille Books. Lawrence lives near Philadelphia with his wife, Valerie, who is neither a psychologist nor a Klingon speaker.
Cover Art by Rachael Mayo. Author's Photo by Nathan Lilly.