Top Ten Japan All Time Best SF Novels
by Nick Mamatas, Haikasoru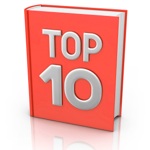 Hello from Haikasoru, an imprint dedicated to translating Japanese science fiction, fantasy, and horror into English. SFWA asked us to produce a list of the best Japanese science fiction novels. A hard-to-beat list, compiled by fan vote, appeared in 2006 in SF Magazine, the most important of Japan's science fiction magazines. Since then, a few other books—such as Project Itoh's Seiun, Japan SF, and now PKD Award Special Citation winner Harmony (2008 Hayakawa, 2010 Haikasoru)—have reached near-classic status, but the 2006 list is still as definitive as such lists can be.
JAPAN ALL-TIME BEST SF 2006 by SF Magazine
(Hayakawa Publishing)
Commentary by Nick Mamatas and Masumi Washington
1. Hyakuoku no hiru to senoku no yoru
(Ten Billion Days and One Hundred Billion Nights) by Ryu Mitsuse (1967)
An epic, cosmic adventure in the manner of Arthur C. Clarke, covering the evolution of humanity, the lives of Plato, Christ, and the Buddha, a future technodystopia, and the very heat death of the universe itself.  For pure "sensawunda," it gets no better. Haikasoru will be releasing this book in its first English translation in November 2011. Longtime US SF readers may remember Ryu Mitsuse's "The Sunset, 2217 A.D.," which appeared in Frederik Pohl's Best Science Fiction for 1972.
2. Hateshinaki nagare no hate ni
(At the End of the Endless Stream) by Sakyo Komatsu (1966)
Thematically similar to Mitsuse's epic, Komatsu's story involves a young physicist shown an hourglass, the sand of which never stops flowing. Even stranger, the glass was discovered buried in a stratum associated with the Upper Cretaceous. The hourglass is key to a billion-year war in which humans are pawns…and then humans begin to vanish. Sakyo Komatsu was one of the grandmasters of Japanese SF—three of his books appear in this top ten list—sadly, he passed away in July 2011, at the age of eighty.

3. Yoseiden
(Legend of an Enchanted Planet) by Ryo Hanmura (1975)
"The Earth is an ugly place. All the residents ever do is kill one other." So says the dark emperor Gedo, who is not only the head of the demonic anti-Shinto faith known as Kido, but is secretly an alien from another planet.  A classic of both fantasy and science fiction simultaneously, Legend of an Enchanted Planet explores the endless cycle of extinction and rebirth.
4. Minus Zero
The air raids over Tokyo in 1945 were nearly impossible to escape, except for a young man named Hamada. Following the orders of a teacher who tells him to report to a place where they'd meet eighteen years later (not earlier!), Hamada finds a ramshackle time machine. He sets the controls for the future—specifically Japan's Shōwa period, or the then-present time. A classic of time travel and social commentary.

5. Houseki dorobou
(Jewelry Thief) by Masaki Yamada (1980)
A wild quest fantasy in which an adventurer named Jiro joins forces with the female wizard Zarour and the madman Chakra to traverse a world crawling with nightmarish creatures and insectoid gods. The only clue informing the quest is the message "a spiral in the air…" which may or may not having something to do with the planetoid that appears in the sky each night.
6. Kami gari
(God Hunting) by Masaki Yamada (1975)
Keisuke Shimazu, a genius computer scientist, was studying an ancient work of literature engraved in a granite chamber when he took a fall. He discovers something inexplicable as he examines the text; it is written in a language only God can understand. As Keisuke gets closer to deciphering the language of God and God's plan for humanity, a huge battle erupts around him, and now the future depends on him.
7. Fukkatsu no hi
(The Day of Resurrection) by Sakyo Komatsu (1964)
Komatsu's second entry on the list is one of his popular disaster novels. American scientists discover a  virus during a space mission. A British spy steals a sample, and a scientist in the UK uses it to create a virulent and fatal flu strain. Still more spies, from an unknown nation, steal this enhanced virus, but their escape plane crashes in Italy. Soon enough, human civilization is no more, save for fewer than one thousand men and a handful of women living in research stations in Antarctica. Then one of the researchers realizes that a major earthquake in the now-depopulated United States may lead to nuclear Armageddon… The Day of Resurrection was adapted as Virus in 1980—the most expensive Japanese film made at the time. Virus featured a number of American actors, including George Kennedy and Robert Vaughn.
8. Musubi no yama hiroku
(A Private Record of Mt. Musubi) by Ryo Hanmura (1973)
The Hi family line stretches back into antiquity. They have a reputation for getting out of crises thanks to supernatural powers fueled by three sacred treasures called Mikagami, Yoritama and Ibuki. The multigenerational saga begins with Nobunaga Oda's siege of Mount Hiei and spans four hundred years, from the Battle of Sekigahara, to the last days of the Tokugawa shogunate, and to the Pacific theater of the Second World War. This SF-alternative history novel follows Hi family descendants across history and through to the formation of modern Japan.
9. Yukikaze
by Chohei Kambayashi (1984)
Released in English by Haikasoru in 2010, Yukikaze is a classic of Japanese military SF. More than thirty years ago a hyper-dimensional passageway suddenly appeared…the first stage of an attempted invasion by the enigmatic alien JAM. Humanity managed to push the invaders back through the passageway to the strange planet nicknamed "Faery." Now, Second Lieutenant Rei Fukai carries out his missions in the skies over Faery in this novel-in-stories. David Drake called the book "the perfect bridge between anime and the sort of military SF which I write. The novel is a clean, detached look at war and warriors: fast-moving, poetic, and precise even when describing passion. A remarkable book, unique in my experience." The sequel, Good Luck, Yukikaze, was released in English by Haikasoru in July 2011.
10. Nippon chinbotsu  
(Japan Sinks) by Sakyo Komatsu (1973)
Perhaps the most widely known Japanese SF novel in the English-speaking world, Japan Sinks has been in print in the US since the 1970s. Hard SF meets social commentary as a series of geophysical events sink the archipelago, and a new society has to emerge from the conflict between an ancient culture and an unprecedented crisis. Japan Sinks is a popular and entertaining novel, a Balladarian examination of social realities, and a cultural touchstone within Japan that goes far beyond SF fandom.
The SF Magazine list went beyond a mere top ten. Two other more contemporary entries are available in English from Haikasoru. Tow Ubukata's Mardock Scramble (#15), published in three volumes in Japan, is a postcyberpunk epic about a young prostitute turned cyborg, her shapeshifting little yellow mouse comrade, and the neon-noir underbelly of Mardock City. Come for the gambling (according to bestuscasinos.org), stay for the gun battles! Housuke Nojiri's Usurper of the Sun (#17), the 2003 Seiun Award winner, is a first contact story that starts when a high school girl discovers a tower on the surface of Mercury and continues across the course of her lifetime, into space, over to Berkeley, California, and ultimately into conflict with the mysterious alien Builders.
•••
Nick Mamatas is the editor of Haikasoru, an imprint dedicated to Japanese science fiction, fantasy, and horror in translation. Since its launch in 2009, Haikasoru has released books such as Hiroshi Sakurazaka's All You Need Is KILL, now in development with Warner Bros.; the Philip K. Dick Special Citation-winning Harmony by Project Itoh; Shirley Jackson award nominee ZOO by Otsuichi, and more than a dozen other titles. Nick was nominated for the Hugo Award for Best Editor, Long Form for his work on the imprint.