Trouble at Aspen Mountain Press
Posted by Victoria Strauss for Writer Beware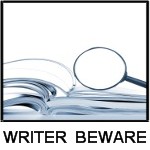 To all appearances, Colorado-based Aspen Mountain Press is an active and problem-free publisher. According to its Submissions page, it is currently seeking new fiction, and it recently launched a SF/fantasy imprint.
This attractive facade, however, is misleading. For a number of weeks now, I've been hearing from authors and staff about major troubles with AMP. Complaints (see this example, which is similar to the reports I've received directly) include nonpayment of royalties, continuing to sell books whose contracts have expired, delayed publication schedules, and lack of communication.

Word of problems with AMP first surfaced this past June, when an AMP staff member announced that AMP's founder, Sandra Holmes, was taking a leave of absence from the company and senior staff were assuming responsibility for all operations.
Apparently, those efforts didn't bear fruit. AMP's senior staff quit en masse in early August. Subsequently, the company's founder, Sandra Hicks, became incommunicado, reportedly refusing to respond to phone calls, email, or paper mail. Scheduled books weren't released; scheduled royalty payments weren't made.
Ms. Hicks broke her silence in late September, promising to remedy some of the delayed releases (though apparently that hasn't happened yet). But many of AMP's authors, fed up and frustrated, just want their rights back.
Will AMP survive? At the moment, the signs aren't promising, though you never know. For now, authors considering submitting to AMP are well-advised to hold off until the current problems are resolved (if indeed they can be).
You can read much of the ugly story at Absolute Write. Relevant discussion starts on page 4 of the thread. Also see first-hand accounts by AMP authors Esther Mitchell, Celia Kyle, Grace Wen, and Andy Dunn.