Quick Updates for 2011-10-04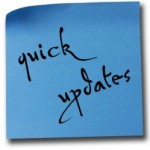 Member News
SFWA member Eugie Foster's short story, "Requiem Duet, Concerto for Flute and Voodoo," was published by Daily Science Fiction.
ARMORED edited by John Joseph Adams, with stories by David D. Levine, Tobias Buckell, & Karin Low, can be pre-ordered at Amazon.
SFWA member Ferrett Steinmetz's college-students + first-mass-produced-time-machine story "iTime" is up at Redstone Science Fiction.