Guest Post: Novelists, Inc., Conference Report
by Elaine Isaak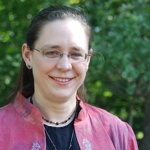 After attending this year's Novelists, Inc. event, I plan to permanently add it to my calendar, in spite of the October date crowding toward the World Fantasy Convention (my current don't-miss). Novelists, Inc, (AKA, "Ninc") is an organization for professional authors of commercial fiction. In order to be a member, you must have published at least two novels in any genre of commercial fiction. (Detailed membership qualifications may be found at their website.) The focus of the group is on the business of being an author, and the average member has published seventeen novels. For the last two years, the annual conference has focused on the changing future of publishing, and how to continue to have a successful career in the midst of these change.
Held from October 20-23rd, at the Tradewinds Island Grand Resort in St. Petersburg Beach, Florida, the conference kicked off with a one-day event open to all novelists, member or not, entitled "The New Publishing: Welcome to Tomorrow." The guests this year included a variety of social media and promotional gurus, alongside people like Linda Quinton (Associate Publisher and VP of Marketing at Tor Books, and Tom Doherty's daughter), Liz Scheier (Editorial Director of Digital Content, Barnes & Noble.com), Lou Aronica (Publisher, The Story Plant), and Don Weisberg (President, Penguin Young Readers Group).
Last year's conference drew more heavily on the romance publishing industry, so it was nice to get a more broad-based approach this year. One writer observed that the publishers spoke almost as if they were courting us. Each of the participants in the one-day panels also gave an individual presentation later on in the weekend. I was a bit disappointed in some of the publicists who seemed more interested in presenting their own services than in providing us with specific information. However, the Ninc writers instigated some interesting conversation. In particular, we watched the reaction of Weisberg, the Penguin executive, to the remarks of Smashwords founder Mark Coker about why authors should go digital. Weisberg came back with some information about Penguin's moves to capture young readers who are increasingly being raised with the e-book format. While we don't currently see many young adults using e-readers, the market for material geared to younger readers being entertained by their parents' devices is getting stronger. This idea returned a few times through the weekend, with a generation of readers who will be primed for e-books as the current generations were not.
A big concern among many of the speakers (and the audience of authors) is the problem of discoverability. The focus of recent efforts in the industry has been to increase availability: to get books onto as many platforms as possible. This has been more or less accomplished, especially with on-line distributors like Smashwords to make it easier than ever for authors. Ninc favorite Carolyn Pittis (Senior VP, Global Author Services Harpercollins Worldwide) gave a great presentation which included the sign: Warning: Math Ahead! According to Carolyn's research, aided by Google, there are about 288,355 books published every year by traditional publishers. Current estimates anticipate 800,000 books will be self-published this year. So how do you make your book stand out among literally a million titles?
Linda Quinton (of Tor) had statistics showing that 55% of book purchases are still impulse buys. Another poll quoted by two speakers had 28% of book purchases driven by seeing it in the bookstore, which is bad news, given the recent demise of Borders (even the Barnes & Noble lady sincerely mourned their passing—because publishers will print fewer books). Mark Coker, in his solo presentation, emphasized making the book package as attractive as possible. In particular, the cover needs to look good as a thumbnail (as it will likely be viewed during initial browsing). And having a large presence makes a difference even on the virtual bookshelf: it helps to have several titles available at once, especially in series.
One hint for those considering book blog tours is to assess not the sheer number of viewers the blog has, but rather the reach and influence of that blogger. A blogger with only a few hundred readers is a stronger voice than one with a larger audience if those readers are engaged with the blog and are likely to act on and pass on the information they receive. Klout.com was recommended as one way to assess bloggers and reviewers more effectively.
I wrote pages of notes, especially from Carolyn's and Mark's presentations, and came home with a list of close to 30 specific actions to take to advance my own career. Ninc's conference is not the kind of place where you will meet editors or pitch books. Because it is genre-neutral, it is especially great for swiping ideas—er—for cross-pollination from other genres, and for authors who are interested in multiple genres. It is about learning from the industry insiders who often have a different insight from the editors we're used to hearing from. Each evening also featured Night Owl sessions by members, for members. I'm not allowed to share anything that happened behind those doors—suffice it to say, we got some hard data and exciting ideas from the other authors as well.
Next year's Novelists, Inc. conference will be held October 25-28, once again a bit close to World Fantasy, but it will be in White Plains, New York. It will likely draw even more industry guests because of proximity to the city. The organization is also hopeful that Amazon representatives will attend—they would not travel to Florida due to concerns over taxation of internet commerce. On the whole, it was an eye-opening look at the future of being a novelist.
•••
Elaine Isaak dropped out of art school to found Curious Characters, designing original stuffed animals and small-scale sculptures, and to follow her bliss: writing. She is the author of The Singer's Crown (Eos, 2005), and sequels The Eunuch's Heir (Eos, 2006), and The Bastard Queen (Swimming Kangaroo, 2010). Her new dark historical fantasy series will be starting in 2012. Elaine is excited to return to the Odyssey Speculative Fiction Workshop in 2012, this time as an instructor. A mother of two, Elaine also enjoys rock climbing, taiko (Japanese drumming), weaving and exotic cooking—when she can scrape the time together. Visit www.ElaineIsaak.com to read sample chapters and find out why you do not want to be her hero.