Quick Updates for 2011-12-16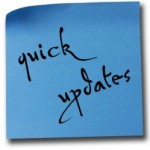 Member News
SFWA member Ian Creasey has published his debut collection "Maps of the Edge." full details at his website.
SFWA Members Paul Cook, Ed Greenwood, Robert Lowell Russell, and Eric James Stone have stories appearing in Digital SF's "Heir Apparent".
SFWA members including David D. Levine are included in The Drabblecast podcast's 10-episode "highlight reel."
SFWA member Eugie Foster's short story "Black Swan, White Swan" was published by PodCastle.
SFWA member Ferrett Steinmetz sold his story "In The Unlikely Event," his preboarding spaceflight monologue, to Daily Science Fiction.
THE FLAME PRIEST, the second book of The Silk & Steel Saga by SFWA member Karen Azinger is now published on Amazon and Barnes&Noble!
"Beyond Binary: Genderqueer & Sexually Fluid Speculative Fiction" edited by SFWA member Brit Mandelo. TOC announced here.
DAW anthology HUMAN FOR A DAY is out w/ stories by SFWAns Eugie Foster, Jay Lake, Jim C. Hines, David D. Levine, Jody Lynn Nye, Laura Resnick, among others.
Human for a Day, edited by SFWA member Jennifer Brozek, is on The Big Idea.
The Assassin's Tear, a collection of short stories from SFWA member Karen Azinger, is now published on Amazon.
SFWA Member Nancy Fulda is donating all income from December 2011 sales of "Movement" to the National Foundation for Autism Research.