Quick Updates for 2012-02-04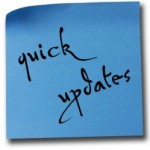 Member News
"From Farm to Fable," SFWA member Matthew Johnson's article on food in science fiction and fantasy, is live in this month's Clarkesworld.
SFWA member Eugie Foster's short story "The King of Rabbits and Moon Lake" was published by podcast Journey Into.
SFWA member Laura Anne Gilman's "Practical Meerkat's 52 Bits of Useful Info for Young (and Old) Writers" is now available at Book View Cafe!
SFWA member Keffy R. M. Kehrli's "The Ghost of a Girl Who Never Lived" is this week's episode of Escape Pod.
The Potomac Review interviewed SFWA member Delia Sherman about THE FREEDOM MAZE.