Guest Post: Submit, Quit, or Self-Publish It?
by Randy Henderson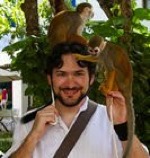 The way to become a published writer is to write (and to submit what you write).  Seems obvious, yet so many would-be writers produce that one story or novel and then rework it endlessly, or submit a story or three, get rejected once (or a hundred times), and decide to give up.
Ira Glass, host of This American Life, does a wonderful job of explaining the reasons we creative types set out to create our particular art, and why so many become disappointed and quit.
I would add for writers specifically that the writers who are published are the ones who continued to write NEW stories, and submit those stories, and move past the rejections, until they were published.
Of course, today we have a wonderful short cut — self-publication!
I have repeatedly been asked for advice from writers who have written one story, or been rejected a few times, wanting to know how to proceed, how to become published.  And sometimes as part of my response I make the mistake of mentioning self-publication as a possible future option.
Don't get me wrong, self-publication is a very valid alternative IF your writing is worth reading, and IF you believe you have what it takes to stand out from the sea of other self-published works.
But too often, the would be writer latches onto that option as the answer, because the rest of my advice — to write and submit and be rejected until you are good enough to actually be published — requires work, and a lot of rejection, and letting many of your stories die an anonymous and unnoticed death.
And often the amateur writer believes their writing to be perfectly wonderful and worthy of being read.  Unfortunately, it is hard to be objective about one's own work.  I certainly see how bad my early stories are now, though at the time I thought they were completely awesome.  I would have self-published them if I'd had the option.  And now I am so glad I did not, that they were rejected and I was driven to try again, to try harder, to do better.
So please, if you want to be a writer, then write, and submit, and keep doing that until you are good enough that somebody other than yourself and your mother thinks it is ready for the world to read.  Persevere, and become a good writer, not just a "wroter" (someone who wrote that one thing and just keeps reworking that same one thing), or a self-published amateur, and someday you will have something published that is worthy of being read.
•••
Randy's fiction has recently been spotted frolicking in places like Escape Pod, Realms of Fantasy, Every Day Fiction, and the anthology "2020 Visions".  He is a Clarion West graduate, a relapsed sarcasm addict, member of SFWA and CODEX, and a milkshake connoisseur.  You can find him at: www.randy-henderson.com where this post first appeared.