In Memoriam: K. D. Wentworth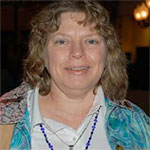 Oklahoma author K. D. Wentworth (b.1951) died on April 18 of complications from cancer and pneumonia.  Wentworth began her career winning the Writers of the Future Contest in 1989 with her short story "Daddy's Girls." Her first novel, The Imperium Game, was published by Del Rey in 1994 as part of their Del Rey Discovery line. Later that year, Wentworth published Moonspeaker, the first novel in her House of Moons Chronicles.
Her other series work included the Heyoka Blackeagle novels and the Jae Empire books, the latter of which were written with Eric Flint, for whose Assiti Shards series she also contributed short fiction. Wentworth wrote several stories about the warrior woman Hallah Iron-Thighs that appeared in Esther Friesner's Chicks in Chainmail series. Her short fiction also appeared in F&SF, Pulphouse, Galaxy, Aboriginal, and the Sword and Sorceress anthologies, among other places.
Following the death of Algis Budrys in 2008, Wentworth took over as the editor of the Writers of the Future Series of anthologies. She also taught an annual writers course for the organization with Tim Powers.
Wentworth received Nebula nominations for her short stories "Burning Bright," "Tall One," and "Born-Again" as well as her novelette "Kaleidoscope."  In the early 2000s, Wentworth served two terms as secretary for SFWA. She was also active in running the annual Oklahoma science fiction convention Conestoga.
(Image:Wikipedia, a Creative Commons Attribution (2.0) image from Cat Sparx's photostream)