Join SFWA at BookExpo America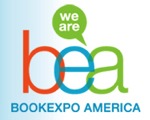 For the first time ever, SFWA will be attending the largest publishing event in North America: BookExpo America (BEA). The conference takes place on June 5-7, 2012 at the Javits Center in NYC. For more information, please visit the BEA website.
Attending members of SFWA are invited to stop by our table and sign their books. We'll provide the space, schedule and some promotion, you bring the books and people. Signing blocks will be 30 or 60 minutes. We cannot guarantee a particular time to anyone, but will do our best to accommodate wishes.
SFWA Members: If you would like to reserve a time-slot, please contact Jaym Gates at pr@sfwa.org by June 2 and provide: your name, titles of books that you'll supply, your twitter name, your website, preferred time slots, and times you'd be unable to attend.