Quick Updates for 2012-06-20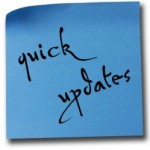 Member News
SFWA Member Jennifer Brozek has an article on Booklife Now about the benefits of being a mentor. You can read it here.
Science Fiction Cruise with SFWA members Robert J Sawyer and David Brin! It's happening this December, sailing from Miami. More information here.
SFWA member David D. Levine recently made his 50th SF/Fantasy story sale. See the list here.
SFWA member Eugie Foster sold her short story "Whatever Skin You Wear" to anthology SOLARIS RISING 2.
SFWA member Karen Azinger, is thrilled to announce the publication of THE SKELETON KING, the third book in The Silk & Steel Saga.
SFWA member Adam Christopher is pleased to announce the sale of his novel SHADOW'S CALL to Tor Books!
Resources
SF Signal has a good roundtable discussion on writing about race in Science Fiction and Fantasy. Read it here.