Quick Updates for 2012-07-17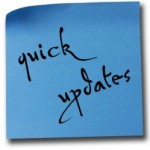 Member News
SFWA member Allan Cole is having Allan's 50% July E-Book Sale. All formats. Go to Smashwords and paste in SSSW50 At Checkout.
SFWA member Cindy Pon has a guest post on distraction no. 99: here.
Nice review of TEMPEST'S FURY by SFWA member Nicole Peeler on Bibliopunkk.
DailySF story "Reading Time" by SFWA member Beth Cato is published in Persian at Farhikhtegan! Illustrated & all.
"Requiem in the Key of Prose" by SFWA member Jake Kerr is now up on the Lightspeed Magazine.
The latest issue of Apex features stories by SFWA members Ken Liu, Kij Johnson, Sarah Monette, and others.
SFWA member Brit Mandelo reviews member Charles Stross's newest book, THE APOCALYPSE CODEX at Tor.com
STALKING THE OTHERS by SFWA member Jess Haines now available here.
EMPIRE STATE by SWFA member Adam Christopher is one of the Financial Times best books of 2012 so far!
SFWA member Matthew Johnson's story "The Afflicted" is out in the July/August F&SF.
Hillarious post from Sean Markey about the perils of farm fresh produce. "Starbucks Thinks I'm A Drug Dealer".
SFWA Member Gregory Norman Bossert has sold his novelette "The Telling" to Beneath Ceaseless Skies.
Tina Connolly of Toasted Cake reads of SFWA member Ken Liu's story, "Golden Years in the Paleozoic".
SF Signal Podcast #136 SFWA member Myke Cole interviews Anthology Editors John Joseph Adams and James Lowder. You can listen to it here.
SFWA member Alex Dally MacFarlane will edit reprint SF anthology ALIENS: RECENT ENCOUNTERS (Prime Books).
"113 Feet" by Josh Roseman appeared in Escape Pod #315 on 6/28.
Roundup of new OCEAN STORIES anthology with a horror tale by SFWA member Mike Allen & Charles M. Saplak "Strange Wisdoms of the Dead" here.
"Feed Me the Bones of Our Saints" parts 1 & 2 by SFWA member Alex Dally MacFarlane are at Strange Horizons here and here.
SFWA member Cory Doctorow is the guest of honor at Westercon 67 in Salt Lake City, July 2014.
SFWA member Michael R. Underwood's novel GEEKOMANCY is now available from Pocket Star via all eBook retailers.
SFWA member/past Nebula finalist Mike Allen has launched a Kickstarter for anthology CLOCKWORK PHOENIX 4.
A transcript of #sffwrtcht interview with SFWA member Deb Coates is here.
SFWA member Beth Bernobich's new novel, QUEEN'S HUNT is now available.
News from SFWA member Sharon Lee here: Releasing all 15 Liaden novels as audio books is only part of it …
The next Seattle-area SFWA reading is Thursday July 19, with Louise Marley, Isaac Marion, and Rhiannon Held.
SFWA member Edward Willett's two-act SF comedy Circle the Crops will be produced in Weyburn, Sask., next summer for the city's centennial.