Quick Updates for 2012-09-25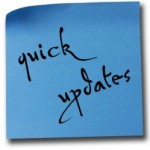 Member News
SFWA member Beth Cato's short story "Blue Tag Sale" has been published at Buzzy Mag.
42 years in the making! SFWA members Larry Niven & Edward M.
Lerner announce FATE OF WORLDS.
SFWA member Athena Andreadis released the TOC of her feminist mythic space opera anthology, THE OTHER HALF OF THE SKY. The post contains story teasers!