In Memoriam: Jack Vance (1916-2013)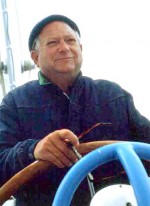 SFWA Grand Master Jack Vance (b.1916 as John Holbrook Vance) died on May 26.  Vance was forced to leave college when his grandfather died, and he found himself in a succession of jobs, including bell hop, a gold dredger, and at a cannery.  He eventually was able to attend the University of California at Berkeley.  During college, he also continued to work and he served as an electrician at Pearl Harbor, leaving that post in November 1941. He served in the Merchant Marine beginning in 1943 and remained an avid sailor throughout his life.  Vance began publishing in 1945 with the short story "The World-Thinker," which appeared in the Summer issue of Thrilling Wonder Stories.  Five years later, he published his first novel, The Dying Earth, which kicked off a highly successful and influential series.  Vance also began writing for Hollywood in the 1940s, including for Captain Video.
Vance wrote more than sixty novels, including the sequels to The Dying Earth, his five volume Demon Princes series, the Alastor series, the Cadwal Chronicles, The Lyonesse series, the Durdane series, and the Tschai series.  Many of his novels, however, stood on their own, including several mystery novels he wrote using a variety of pseudonyms, including the Ellery Queen house name.  In 1963, he won his first Hugo Award for the novella "The Dragon Masters."  He won a second Hugo, as well as a Nebula Award, for the novella "The Last Castle."  Vance became the oldest Hugo winner in 2010 when his autobiography This is Me, Jack Vance! received the Hugo for Best Related Work.  Vance  received a Lifetime Achievement World Fantasy Award in 1984 and was the Guest of Honor at Magicon, the 1992 Worldcon.  He was named a SFWA Grand Master in 1997 and was inducted into the Science Fiction Hall of Fame in 2001.
John Scalzi, outgoing President of SFWA, had this to say:  "Jack Vance is of course a genuine great in the field, one whose work captivated generations of science fiction and fantasy readers and writers, many of whom went on to be greats themselves. To say he will be missed is obvious. To say his influence will continue to echo through the years is a reassurance. My thoughts to his family, friends and many fans today."
Steven Gould, incoming President of SFWA, offered his thoughts: Jack Vance is "one of the greatest Science Fiction and Fantasy writers of the 20th Century. For me, 'The Dragon Masters' seized me by the throat at a young age and has never let me go."
Photo by David M. Alexander.