by Cat Rambo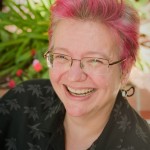 If your writing features a richly detailed universe, full of names, places, and historical events, you may want to explore using a wiki to chronicle it. A wiki's structure allows intricate details to be recorded in a way that both preserves  it in an easy to locate fashion but also allows devoted fans to browse the longtime story of your work.
What is a Wiki?
The word "wiki" means "quick" or "fast" in Hawaiian. A wiki is usually a web application that allows people to quickly and easily collaborate on a set of webpages.
Wikipedia is the most obvious example. Started in 2001, it now has over four million pages, 470 million monthly visitors, and 77,000 contributors. Wikipedia operates by five principles:
It is an encyclopedia.

It maintains a neutral point of view.

It is free content that anyone can edit or use.

Editors must treat each other with civility and respect.

It does not have firm rules, but adapts to new situations as they arise.
Wikis are usually unstructured, with no overall leader or owner, but levels of control can be set on a wiki to restrict user access in terms of viewing, creating, and editing content. Wikis  can be public or private.
How a Wiki Works
In a wiki, users are invited to create or edit webpages. Link creation is easy and intuitive, allowing pages to link to each other when they overlap in content. I could create a list of fantasy writers on a wiki page, for example, and easily make each name link to a page about that writer.
To use a wiki, you need to know the basics of wiki markup, which lets you create links and format text.  For a good overview of wiki markup, check the Wikipedia page on it: http://en.wikipedia.org/wiki/Help:Wiki_markup
How Writers Can Use Wikis
One interesting way to use a wiki is to document the details of your fictional universe in an interesting form on your website. You can choose to restrict access level to yourself and chosen editors, or you can crowdsource its creation and let your fans build it with you. The latter engages fans more deeply with your universe, which in theory should make them more eager to consume new books set in it.
You might choose to use a wiki to keep track of things while writing, then release it later as a bonus to people who buy the book. Or if you're crowdfunding, this might be a possible reward for backers.
Create a wiki about the genre you're writing in: steampunk, space opera, military fantasy, etc. Make sure your books are listed but give wiki participants more than that. Include other authors and resources. Rather than investing the amount of time it would take to develop such a wiki, you may want to look for existing wikis in your genre to make sure your work is listed. Make sure you read the individual wiki's rules before you go adding yourself, though. Some communities have rules against self-promotion.
Along the same lines, you may want to see yourself in Wikipedia, but you'll find if you write and submit your own entry, it will, most likely, get deleted. Find a friend who is an established Wikipedia editor, and ask them to submit it. Before you do so, however, ask yourself if you've hit the point in your career where such an entry is justified.  Have you appeared in major publications or on an award ballot? Had a book published by a notable press? Edited a publication that achieved notoriety? Wikipedia editors are ruthless in removing material they deem trivial.
Anyone can edit a wiki, and so you may find someone editing your entry somewhere in a way that you object to. In such cases, first relax. What is edited in can be edited out, usually with ease.  Secondly, in trying to fix the situation, adhere to the rules of the wiki.
Setting Up Your Own Wiki
Before anything else, decide whether you are creating a public or private wiki, as well as whether you are hosting it on your own machine or server or alternatively using a wiki service.
If you simply want a personal wiki for your computer, try Tiddlywiki. Only you will be able to access it. Tiddlywiki works via your browser, and is available for both Mac and Windows machines via Firefox, IE, Safari, and Opera.
For a wiki service that will allow you to show the wiki on your site, there are a number of alternatives. Here are four good ones.
If you want to host the software on your own server, try Interlinks or MediaWiki. This alternative requires more technical knowledge than the other two options.
Some Interesting Wikis on the Web
•••
Cat Rambo's most recent short story collection, Near + Far, appeared last fall from Hydra House. Find links to her fiction as well as her upcoming online classes on her website, http://www.kittywumpus.net.