Guest Post: Alpha Workshop: Anthologies and Opportunities
by Lara Elena Donnelly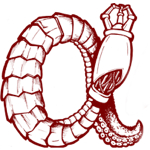 Dragons in your pickle jar. Devils at the diner. Sentient space ships named for epic poetry. All these and more inhabit the pages of the annual Alphanthology, an illustrated collection of flash fiction by alumni of the Alpha SF/F/H Workshop for Young Writers. Alpha is a nonprofit, ten-day residential workshop for teen writers of genre fiction, held every summer in Greensburg, Pennsylvania.
First put together in 2011, the Alphanthology is offered as a reward for donors to Alpha's scholarship fund. Alpha's organizers do their best to keep costs low, but sometimes accepted applicants can't afford tuition. The scholarship fund exists to make attendance possible for talented young writers from all walks of life.
Contributing to the Alphanthology gives enthusiastic alumni an avenue for continued involvement with the workshop, and the knowledge that they have given another teen writer the chance to join the community they love.
But before the annual publication was even a glimmer in someone's DVR implant, there was Ned and Jane.
In 2010, the gap between scholarship requests and Alpha's available funds seemed insurmountable. Staff member Catherine Krahe turned to alumni for ideas. Time was tight. Luckily, students at the previous summer's workshop had created the perfect focus for a fundraiser.
Ned and Jane, a goofy, gory send up of the classic early reader series, was an ideal donor award. "Critically, it was something that already existed," said Sarah Brand, an Alpha graduate (2006, 2007) and staff member who now acts as Alpha's Fundraiser Coordinator. The alumni involved in the Ned and Jane fundraiser were all full-time students, neck-deep in academia and their own writing.
But despite their busy schedules, these volunteers mounted a fundraiser that closed the gap and made attendance possible for every student who requested assistance.
Spurred by the success of Ned and Jane, the alumni support network put forward an idea for 2011: the very first Alphanthology, written, illustrated, designed and edited by alumni. The resulting anthology was a cornucopia of speculative fiction and gorgeous art including work from eight alumni. For an entirely grass-roots, volunteer-run fundraiser, the response was validating: $4,000 in one week.
2012 saw the Alphanthology accompanied by a charity auction, with books, critiques, ARCs and knitted goods donated by alumni and authors including Tamora Pierce, John Joseph Adams and George R.R. Martin. The anthology's table of contents doubled.
Last year saw a smaller anthology, but it was clear from the contents and design that experience was paying off–the slick, gorgeous PDF featured Alpha's new logo on the cover: a logo designed by Alphan Gillian Conahan for the alumni-organized revamp of Alpha's existing website. Conahan (Alpha 2006, 2007) has acted as the layout maven for the Alphanthology since its inception.
Continuing alumni involvement is a testament to the importance of Alpha in young writers' lives and careers. "When it comes time to coordinate Alpha fundraisers," said Brand, "Alpha alumni are the ones who step up to the plate."
This year, the Alphanthology will feature old hands and new alumni–gorgeous art and compelling prose by young writers on their way up in the field. It will be available to donors all year, but especially during the weeklong scholarship fundraiser, running February 2-8.
"We're the ones who have experienced firsthand how the workshop changes us, as writers and as people," said Brand. "That's why we'll work to make sure every talented young writer has the same chance we did."
Contributors to the Alpha scholarship fund receive a copy of the 2014 Alphanthology. To make a pledge, please visit our donation page. To learn more about the Alpha SF/F/H Workshop for Young Writers, visit our website or follow @AlphaWorkshop on Twitter. For a taste of the workshop atmosphere, check out this student-created trailer for Alpha 2012.
Alpha is a 501-C3 non-profit and donations are tax deductible!
Lara Elena Donnelly is a graduate of Alpha (2007, 2008). You can find her flash fiction and illustrations in this year's Alphanthology.