Museum of Science Fiction Indiegogo Campaign
The Nonprofit Museum of Science Fiction has issued the following press release:
The Museum of Science Fiction will be closing our Indiegogo campaign in a few days and I wanted to thank you again for your strong and generous support.
In an effort to create some finish-line momentum and continue building our community, I would like to offer chance to win a Museum of Science Fiction "staff-only" flight jacket and lifetime membership to the museum.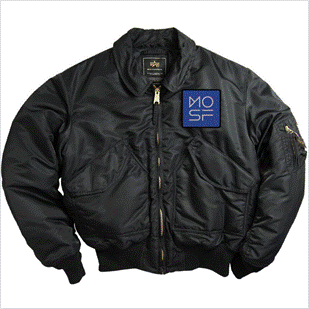 Anyone making a $25 donation or more to the museum's crowd funding campaign in March will be automatically entered into the contest for the flight jacket and lifetime membership. Membership includes:
Unlimited lifetime free admission

Invitations to special events, lectures, screenings, and other exciting activities with guaranteed priority seating

Two annual free visitor passes to share with friends

50% discount on admission cost of anyone who arrives with you

10% discount on all MoSF shop merchandise

Personalized, after-hours tours (by arrangement)

Lunch with the Executive Director and Board of Advisors Chairman

A "founding colonist" certificate with your name on the website's donor page and on the LED wall in the preview museum
Please make a donation of $25, $50, $100, or more, right now, by clicking www.scificrowdfund.com
The winner of the contest will be announced in two week and awarded at AwesomeCon in Washington DC.