SFWA Policy on Self-Publishing: Comments Welcome.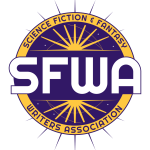 The SFWA Board of Directors is asking members to share their opinions of self-publishing over the summer. The Board has asked the members to consider not just whether or not to make it possible for writers to join on the basis of self-published works but also the issues that would have to be addressed, such as confirming income, sales, and other publishing information from self-published writers. The issue should be submitted to the full membership prior to November's business meeting at the 2014 World Fantasy Convention.
Members are invited to share their opinions with the Board through emails, via letters to the Forum, on the discussion boards, or at SFWA business meetings.