Andre Norton Award Jury Announced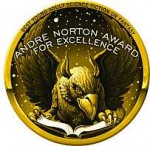 The Science Fiction and Fantasy Writers of America announce the members of the jury for the 2016 Andre Norton Award. Throughout the coming year, the jury will be compiling its list of picks for the Norton Award. This year for the first time, SFWA will release a Norton Honor list of the top 15-20 books compiled from member votes and jury picks.
Chair Ellen Klages says, "Speculative fiction is a literature about exploration, possibilities, and dreams. The Andre Norton Award honors the best SF/F works written for the people who will create the future — children and young adults. What they read today will influence them — and the world — for decades to come."
The jury members are:
Ellen Klages (jury chair) writes science fiction, fantasy, and fiction about science. Her work has appeared in science fiction and fantasy anthologies and magazines, both online and in print, including The Magazine of Fantasy and Science Fiction, Black Gate, Eclipse, and Firebirds Rising. Her story, "Basement Magic," won the Best Novelette Nebula Award in 2005. Several of her other stories have been on the final ballot for the Nebula, World Fantasy, and Hugo Awards, and have been reprinted in various Year's Best volumes.
E.C. Myers was assembled in the U.S. from Korean and German parts and raised by a single mother and the public library in Yonkers, New York. A YA writer who spends too much time on the internet, he is the author of the Andre Norton Award–winning Fair Coin; also Quantum Coin, The Silence of Six, and Against All Silence (July 2016). Find him online at http://ecmyers.netand on Twitter: @ecmyers.
Fran Wilde's first novel, Updraft, debuted from Tor/Macmillan in 2015. Her latest novel is Cloudbound (Tor, 2016). Her short stories have appeared in publications including Asimov's, Beneath Ceaseless Skies, Nature, and Tor.com. You can find her at franwilde.net.
Leah Bobet is a novelist, editor, and bookseller.  Her debut novel, Above, was short-listed for the Prix Aurora Award and the Andre Norton Award; her second, An Inheritance of Ashes, has been shortlisted for the Canadian Library YA Book Award, the Prix Aurora Award, and the Cybils Awards. Leah  lives and works in Toronto, where she dabbles in urban canning, knitting, and game design.  www.leahbobet.com.
Jei D. Marcade is a teen librarian and YA advocate whose poetry and short fiction have reared their heads in venues such as Goblin Fruit, Strange Horizons, and Escape Pod. Jei is currently installed in the Rust Belt with a hydrobot and a hedgehog, and blogs sporadically out of postapocalypso.tumblr.com.
What the Award is
The 2017 Andre Norton Award will be presented during the SFWA Nebula Conference in Pittsburgh in May, 2017. The ballot is a combination of items selected by member votes and jury picks.
This year will include an honor list of additional recommendations that will be released to libraries, schools and book vendors. SFWA President Cat Rambo notes, "The Andre Norton Award was founded to help readers find the best books middle-grade and young adult speculative fiction of each year, and releasing an honor list like this moves the award's mission forward."
Questions about submitting books for award consideration should be directed to Terra LeMay at
nac@sfwa.org