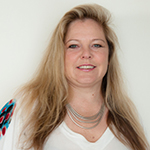 by Sylvia Spruck Wrigley
As a science fiction writer, I'm always on the lookout for cutting edge technologies that might spark an idea for a story. This time, an initiative called Project Scarlet Eagle came looking for me. At first it was all hush-hush, but now I have permission to tell you everything[1].
Project Scarlet Eagle is an initiative to support innovation at Thales, the most omnipresent company that you might never have heard of. Thales is a European technology and engineering giant that supplies the aerospace, space, defense, ground transportation and security markets. Their equipment is used in 40% of Air Traffic Control centers around the world; they handled the assembly, integration and testing of the comet Rosetta Probe; they supply command and control systems for military operations; they design and build unmanned vehicles to scan the land and sea for mines; they supplied the ground-breaking urban security system for Mexico City… the list goes on and on.
As with any large corporation, the company as a whole can be very risk averse, and there's some concern that the company may be stuck in a rut, supplying the same-thing-only-better year after year. We've all seen how a monolith can be toppled by disruptive technology when they cannot move with the times. So Thales as a group has clear commercial reasons to ensure that they keep themselves flexible and encourage exciting projects. Enter Kate Gregory, an expert on innovation who works through the corporation across multiple countries in order to support innovation within the individual departments. Kate is leading the pilot project based on a brilliant idea she had for creativity sessions at Thales: Sci-Fi Storming. "We've done a lot of technology road-mapping," Kate told me when we first met. "I set this up by getting a good mix of participants, including management, engineering, and marketing. For a creative session, I have to get them to suspend judgement and to feel free to brainstorm solutions without feeling silly. To do that, they need to be immersed or absorbed in the subject so that they are at their most creative."
Kate found that she couldn't present a problem and simply ask, "How do we solve this?" Staff found it difficult to introduce anything that might be ground-breaking. They were worried that their ideas would be laughed at or dismissed. So Kate set up her workshops to support staff while exploring new territory, telling them, "We're trying to avoid self-censoring because your own ideas of the feasibility or politics involved is limited to your knowledge and your sector. But your idea may make sense when combined with the knowledge of other people at the workshop."
Her favorite example of solving a problem through brainstorming comes from Pacific Power and Light, which supplies electricity to areas of the American Northwest. They were faced with a problem of ice building up on power transmission lines in remote areas during winter storms. Linemen had to be sent out to deal with it. They had to climb icy towers and use long hooks to knock off the ice. It was slow, expensive, and dangerous.
The company held a brainstorming session. It included supervisors, linemen, accountants, secretaries, and even the mail clerk. No idea was too crazy. Someone came up with the idea of training bears to shake the ice off of the pylons.
The facilitator ran with it: How?
Place honey pots at the top of the pylons.
How to get the honey pots up there in the first place?
Well, we'd have to deliver them by helicopter.
One of the secretaries had been a nurse's aide in Vietnam. She remembered how violent the down-wash was from the rotating blades of incoming helicopters. Would that be enough, she wondered, to shake the lines and knock the ice off?
It was. The combination of a diverse group of people and a willingness to work through crazy ideas provided a solution.
According to Kate, one of the biggest challenges in building productive workshops is getting people to actively participate. To do so, you need to define a problem that you want them to solve. A methodology that captured Kate's and her colleagues' attention was the science fiction prototyping done at Intel: extrapolating forward trends based on research.
Kate realized that science fiction stories could be used to set up brainstorming sessions. The story could do the heavy lifting: it could highlight the technology within a futuristic scenario, which would give the participants a context for the problem to be solved. It would immerse the participants in the activity. And most importantly, it would give them permission to be silly. It was only a story, after all.
That's where I come in. The person who runs the innovation lab in Australia had read one of my short stories. When he discovered that I also write about aviation and other technical topics, he recommended me to Kate, who contacted me and asked if I might be interested in writing a short science fiction story for her.
I couldn't say yes fast enough.
We decided it made sense to have one site visit per story, expenses paid, and a flat rate per story. Defining how the stories should work was more difficult. No one had done this before so there was no one who could give me an outline. I asked about other SF stories they liked. The answer? Ones by Isaac Asimov.
No pressure then! Still, I couldn't possibly miss this opportunity, even though I really wasn't sure how to pull it off.
We had a deal.
Well, between me and Kate anyway. Thales took a little bit longer, illustrating the difficulties involved in getting things done in a large corporate environment. It took six months to get a contract drafted, during which time Kate had to get me added to the "approved supplier list" in order to requisition a purchase order. I am now the approved supplier of Science Fiction for all of Thales.
The site visits have been amazing. So far, I've been to Glasgow to see [redacted] and Cambridge where I explored [redacted], and at Reading I was invited into a high level management meeting to discuss [redacted], and I even got to take part in a Graduate Challenge set up by Thales for university engineering and marketing students to discuss the latest possibilities to do with [you guessed it: redacted].
In each case, I listen to the hopes and concerns of the engineers and management and even to those who serve coffee. Then I come up with a near-future premise in which this technology plays a core role. I have to be careful: the last thing I want to do is to try to explain the technology to the experts. Instead, I focus on the social effects: what happens when today's pipe dreams become tomorrow's disruptive technology. I search for interesting perspectives: Giff is a 12-year-old girl playing hooky to see a test launch; Harry McIntyre is a 20-year-old volunteer in the disaster zone of the great southern California earthquake; Liam Jones runs into Great Aunt Beatrice on the commuter train and just wants to make it to the end of the line without her embarrassing him to death.
The next step is the on-site workshop, where I read the story to the participants. Kate discovered this makes a real difference. She told me, "People were put into a mode of being creative and nonjudgmental by having the story read to them. We hadn't planned this but were surprised by the result. They were sitting still and listening and engaging the imagination. So when we started brainstorming, they weren't afraid to be silly." This makes them more willing to consider wild ideas in the session that follows.
The discussion usually starts with some nice comment about my story. Then someone says something like, "Well, yes, except that the bit where her pod coupled onto the train carriage, that wouldn't work like that." And someone else will say "Well, if you ratcheted the struthings to the base unit then the fixerator could totally…" and they are off! As a group, they discuss the flaws in my story's technology and how they would fix it.
It's hard for me, because I have to stay quiet and not try to defend my story-logic. And most unfairly, I don't get to revise the story and fix the technical mistakes, because the piece has already done its job by kicking off the brainstorming.
Right now, the pilot project is voluntary at Thales, so staff can decide whether they want to take part or not. But the novelty of Sci-Fi storming seems to be a draw: people want to experience it. The short-term goal is to create a bit of a buzz and get people thinking about the benefits of creativity. Kate told me that her personal vision is for Sci-Fi Storming to become an every-day part of internal programs.
I hope she's right. I'm holding out for an invitation to Thales Alenia Space and an on-site reading on the International Space Station.
==
[1] Well, not quite everything. I haven't even mentioned [redacted].
•••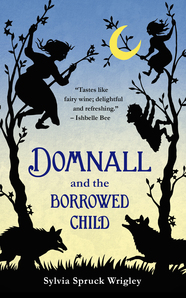 Sylvia Spruck Wrigley's first long work, Domnall and the Borrowed Child, is now available from Tor.com.
Sylvia  was born in Germany and spent her childhood in Los Angeles. She emigrated to Scotland where she guided German tourists around the Trossachs and searched for the supernatural. She now splits her time between South Wales and Andalucia where she writes about plane crashes and faeries, which have more in common than most people might imagine. Her fiction was nominated for a Nebula in 2014 and her short stories have been translated into over a dozen languages.