Ten Tips For First-Time Travelers to Helsinki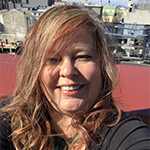 by Sylvia Spruck Wrigley
WorldCon in Helsinki is THE social event of the year, and we're all really looking forward to it. However, for many people, it might be the first time traveling to a country where English is not the native language. This can be nerve-wracking because it is impossible to know what to expect. In a vague attempt to help, I've created this ten-point list of how to cope.
1) Research before you go. Read articles. Pick up a travel book. If you are comfortable with Reddit, browse through https://www.reddit.com/r/helsinki/ or even take part in https://www.reddit.com/r/Worldcon75/ and get to know people before you even arrive. Use Google Street View to explore your neighborhood. Look up the address and phone number of the American consulate. Install Duolingo and practice five minutes of Finnish a day for four weeks.
2) Immerse yourself in culture. It's extremely rare to meet someone in Helsinki who does not speak English, so save your study time for exploring Finnish history and literature. There's plenty of speculative fiction in English by Finnish authors including Leena Krohn, Hannu Rajaniemi, Emmi Elina Itäranta, Antti Tuomainen, Jyrki Vainonen, and of course, Tove Jansson's Tales from Moominvalley!
3) Relax. You can get by with pretty much no research at all. One important thing to understand about continental Europe is that the Brits have been traveling all over it for generations, insisting on their right to be 100% British. If you feel like things are going wrong, fake a British accent. It might not fix the issue but it will at least ensure that the Brits get blamed instead of us.
4) Search Google for specific questions. You'll be surprised at how many things are documented in detail and Google as a search engine is particularly good at finding the discussions where someone else has asked this before. I end up with long lists of things to look up, ranging from public transport to etiquette to neighborhood gossip. At worst, if you don't find any information, it either means your question is too specific ("What's the plumbing like at Aleksanterinkatu 33?") or, more likely, it is simply not an issue and you can wait until you arrive. If you are really nervous, look up tourist information and try mailing them to ask. Pretend it is for a novel, if you like. I've asked about everything from "How easy is it to find parking in city center on a Sunday?" to "Whom should I contact to talk about indigenous plants in the 1880s."
5) Smile. People say you can recognize Americans because they are always smiling broadly. In Europe, my smiles are one of my defining features. Hell, as a Californian, even New Yorkers are bemused by my insistence at smiling at everyone. Smiling is a fast way to signal that you are a tourist. It also helpfully lets people know that you are laid back and not one of those WHY DO YOU NOT DO THINGS LIKE WE DO AT HOME shouty tourists. It can give you an air of mystery. If you smile constantly, locals might assume that you are on drugs. Embrace this: it's as good an explanation for your confusion as any.
6) Don't get offended. People won't greet you happily. They won't ask you how you are. They won't insist that you have a nice day. This does not mean that they are upset at you. They are not putting you down nor are they deliberately being rude. It's just a standard transaction and it is not at all personal. Just keep smiling until they start to look nervous.
7) Plan to disappear. You probably don't have any reason to visit Helsinki again. You can be stupid. You can fulfill every stereotype of the brash tourist. You can admit that you are completely lost. You can do everything wrong and embarrass yourself to death and it will not matter: you will never see these people again. Speak to strangers on the street. Ask questions.
8) Eat anything. It's easy to make assumptions of how dinner works and I can't tell you how often I've seen people stumble at this hurdle. "But they must have Swiss enchiladas here, we are right next to Switzerland!" It can be confusing, especially if you are craving carne asada. The harsh truth is that your chances of decent Mexican food in Europe are slim and none. The more laid back you can be about what you eat, the easier it will be. But also, if you are hungry and confused and just can't face negotiating any more foreign things, then forget being cool and slip into McDonalds. I won't tell anyone. Once you are fed and watered, you'll find everything else easier to deal with.
9) Don't panic. Thousands of Americans pass through Helsinki every year. There is NO WAY you are going to be the worst. If you avoid referring to architecture older than your country as "cute" and make a point of speaking slowly and avoiding slang then you are already a step ahead of most tourists. If you ask questions, rather than announce what you think you already know, you'll be in the 99th percentile.
10) You've been invited in like a vampire; it's too late for them to turn you away now. The Helsinki team worked VERY HARD to get the bid, knowing that Worldcon is extremely biased towards the US. You are their treasured guest. They want you in Helsinki. They want your trip to be successful. There are Finnish people on every street corner who are hoping that you are having a good time. You may not need to ask for help, but if you do, know that they are there and that they care.
Above all, plan to make friends. I'm looking forward to seeing you there and so are a whole lot of other people. It's going to be fantastic.
•••
Sylvia Spruck Wrigley was born in Germany and spent her childhood in Los Angeles. She emigrated to Scotland where she guided German tourists around the Trossachs and searched for the supernatural. She now lives in Tallinn where she writes about plane crashes and Estonian air maidens, which have more in common than most people might imagine. Her fiction was nominated for a Nebula in 2014 and her short stories have been translated into over a dozen languages.  Her first novella, The Borrowed Child, was published in 2015 by Tor.com and is available now at all good book stores. You can find out more about her at http://www.intrigue.co.uk/