Great Fantasy Comes in Bundles
For a limited time, readers have a chance to buy some fantastic fiction at fantastic prices, as once again, SFWA teams up with StoryBundle.
This time around, Cat Rambo, President of SFWA, curates the SFWA Fantasy Story Bundle, featuring works from SFWA fantasy authors. As always, readers choose what percentage goes to the writers, to StoryBundle, and to SFWA–the featured charity.
Proceeds benefit SFWA in its efforts to support, promote, inform, defend, and advocate for professional fantasy and science fiction writers. For more about the grants program, see http://www.sfwa.org/2017/09/call-grants-2017/.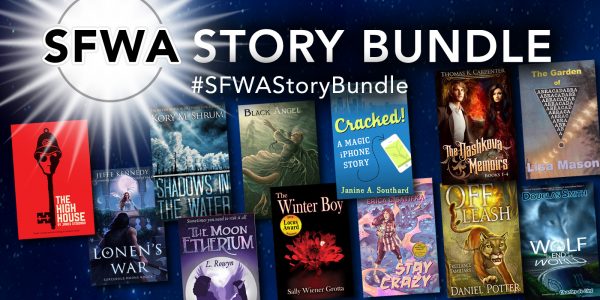 At a minimum price level of $5 readers get:
The Dashkova Memoirs: Books 1-4 by Thomas K. Carpenter
Sorcerous Moons – Book 1 – Lonen's War by Jeffe Kennedy
Cracked: A Magic iPhone Story by Janine A. Southard
The High House by James Stoddard
At $15 or more, readers get all four of the regular titles, plus EIGHT more!
The Winter Boy by Sally Wiener Grotta
The Garden of Abracadabra by Lisa Mason
The Moon Etherium by L. Rowyn
Black Angel by Kyell Gold
Shadows in the Water by Kory M. Shrum
Stay Crazy by Erica L. Satifka
The Wolf at the End of the World by Douglas Smith
Off Leash by Daniel Potter
The ebooks are DRM-free and come in multiple formats to allow for easy reading on computers, smartphones, tablets, and e-readers.
For more information, and for a word from Cat Rambo, head to StoryBundle.
The clock is counting down! Don't miss out.