Building Worlds with SFWA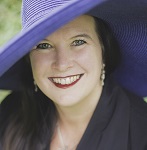 by Jeffe Kennedy
It's apropos that Lonen's War, book one in my Fantasy Romance series, Sorcerous Moons, is featured in the first SFWA Fantasy StoryBundle. That's because the fantastically smart and helpful folks in SFWA helped me out with a worldbuilding challenge.
See, my other Fantasy Romance series, The Twelve Kingdoms and The Uncharted Realms, was done with a traditional publisher (Kensington/Rebel Base). In addition, I was working on another Fantasy Romance series—The Forgotten Empires—which I've since sold to St. Martin's Press. If you're familiar with traditional publishing contracts, you'll know they do their best to limit competition from the author's own books, done elsewhere. There are often non-compete clauses that prevent an author from publishing another book in the same genre within a certain margin of time before and after their house's release dates. There are also option clauses that require the author to submit their next book in that genre to that publishing house first.
Now, a good agent whittles these down to very specific scenarios—preferably to that world and those characters—if she can't eliminate them altogether. My agent is a good one (Sarah Younger at Nancy Yost Literary Agency) and my option and non-compete clauses are quite specific.
Still, when I went to self-publish a whole new series, to be safe as possible and avoid any trouble, I wanted it to be very clearly an entirely different world. The "easy" way to do that, I decided, was to give this world two moons. It also fit in thematically with the magic system I had in mind, as well as the partnership between enemies that formed the core of the story.
One big problem: I'm a biologist, not an astrophysicist (or whatever discipline this sort of thing falls under) and I had zero clue how the presence of two moons would affect the world.
So, I asked on the SFWA forums! I did not expect what I got: an immediate, detailed deluge of information from how the moons themselves would look, to their phases and orbits, to their effects on the tides, etc. It was amazing and I used almost all of it. By the end of the series—I'm up to four books now—I might indeed use every bit.
SFWA has been a great experience for me. Both this help and the opportunity to have a book in the Fantasy StoryBundle are but small parts of all the ways the organization has enriched me as a writer, and my career overall.
Plus I get to read all these books—can't wait!
•••
Editor's note: The SFWA fantasy bundle at StoryBundle ends Friday. Don't miss out!
•••
Jeffe Kennedy is an award-winning author whose works include novels, non-fiction, poetry, and short fiction. She has been a Ucross Foundation Fellow, received the Wyoming Arts Council Fellowship for Poetry, and was awarded a Frank Nelson Doubleday Memorial Award. She is the author of three fantasy romance series, three contemporary erotic series, and various other erotic and paranormal tales.
Books in her award-winning fantasy romance series have received starred Library Journal reviews, have received the RT Seal of Excellence, have been nominated for the RT Book of the Year and have been three times nominated for the RT Reviewers' Choice Best Fantasy Romance, winning the award in 2016. In 2017, one of the books won RWA's RITA® Award for Paranormal Romance. Her contemporary erotic romances have been translated into Italian and French.