A Small List of Large Characters: Fat Representation in SFF
by Jessi Cole Jackson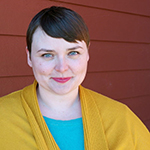 Before delving in, I want to recognize that for many (myself included) fat is a loaded term, with years of abuse attached to it. I use it because it's not twee or gendered and it does not reduce identity to a specific set of numbers. Also because I want to take it back from bigots and bullies.
As a child, I never saw myself in books. Yes, there were plenty with nerdy, bookish girls, but these were not my primary self-identifier. I was a fat girl first and foremost, and fat girls didn't exist in the stories I read.
Except one.
I don't remember the author, title, or any other important details of this influential story. What I do remember is the explicit ways in which the protagonist determined her own fatness. Her methods involved pinching and measuring the flesh of her stomach and thighs and trying to see the toes of her shoes while standing straight. It's no surprise that weight-loss was the major plotline, and for every pound she shed, her popularity increased.
As a child who failed both the outlined tests and at weight-loss, this hurt. Nevermind that I never struggled with popularity at that age. The narrative told me that because my body was too big, I was not enough.
Soon after, I mostly turned away contemporary novels, wedging my nose in the pages of speculative fiction. There, at least, I was safe from my own distressing reflection. While reading science fiction and fantasy I could pretend to be thin, or at very least "normal," because in SFF, fat girls didn't exist at all.
Or so I thought.
Over the last twenty-five years, things have changed. My reading has expanded. Publishing has slowly become more interested in inclusive fiction. And maybe, I became brave enough to start looking for myself again. The more I embrace radical self-acceptance, the more awesome mirrors I find in fiction–characters who are fat and are more than morality lessons.
Below are some of the good representations I've found while reading recently (and one of my own shorts). It's not an exhaustive list by any means. Nor is it perfect. There are some tropes among them, and a whole lot of one-and-onlys represented. It's female-centric, because I read primarily female-centered stories. Which is all just to say: it's not perfect, but it's a start. A small list featuring large characters–heroes and villains, love interests, protagonists, and family.
And not one of them measures their stomach or thighs.
"Where Virtue Lives" by Saladin Ahmed
"On Higher Ground" by Annie Bellet
"Throwaway Children" by Jessi Cole Jackson
The Seafarer's Kiss by Julia Ember
River of Teeth by Sarah Gailey
Faith, Vol. 1: Hollywood and Vine by Jody Houser, Francis Portela, and Marguerite Sauvage
"Haunts" by Claire Humphrey
"Makeisha in Time" by Rachael K. Jones
The Wish Granter by C.J. Redwine
Flex by Ferrett Steinmetz
Nimona by Noelle Stevenson
"Cloud Dweller" by E. Catherine Tobler
As I've said, this is a small list and it has significant gaps. I'd like to keep reading stories with people like me wholly drawn. Who have I missed? What books or stories must I absolutely have to read immediately? Share your favorites in the comments.
•••
Bio: Jessi Cole Jackson is fat and loves reading and writing SFF. Her short stories have appeared in Hidden Youth: Speculative Fiction from the Margins of History, Cast of Wonders, and most recently, Book Smugglers Publishing, among others. Currently, she is planning a collaborative project tracking fat characters in fiction. If you'd like to be involved, reach out via jessicolejackson.com or on twitter @Ms_ColeJackson.