In Memoriam – Kate Wilhelm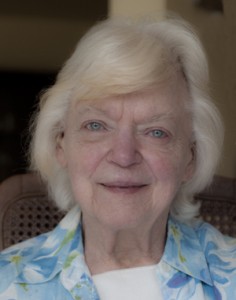 Kate Wilhelm (b.1928) died on March 8.  Wilhelm was one of the founders of SFWA. Two years ago, SFWA named the Kate Wilhelm Solstice Award in her honor. Wilhelm began publishing science fiction in 1956 with her short story "The Pint-Sized Genie" and published her first science fiction novel, The Clone, co-written with Theodore L. Thomas, in 1965, although she had previously published the mystery novel More Bitter Than Death. The Clone earned Wilhelm the first of her eighteen Nebula Award nominations.
Not only did Wilhelm co-found the Science Fiction Writers of America, she also worked with her husband Damon Knight to run the Milford Writer's Workshop and taught at the Clarion Workshop. Wilhelm had continued to run writers workshops throughout her life and was supportive of newer authors.
In addition to writing science fiction, Wilhelm has written numerous mystery novels. Within the science fiction field, she is known for her Hugo and Jupiter Award winning novel, Where Late the Sweet Birds Sang. She also won a Hugo for her non-fiction book, Storyteller: Writing Lessons and More from 27 Years of the Clarion Writers' Workshop She has won the Nebula Award three times, for her short stories "Forever Yours, Anna" and "The Planners" and for her novelette "The Girl Who Fell into the Sky." Her novel, Juniper Time received the Prix Apollo and Death Qualified won the Kurd Lasswitz Award Preis.
Along with Knight, Wilhelm was one of the pro Guests of Honor at Noreascon Two, the 38th Worldcon, held in Boston in 1980 and she was inducted into the Science Fiction Hall of Fame in 2003.  She received one of the inaugural Solstice Awards in 2009 for having a significant impact on the science fiction landscape.
SFWA President Cat Rambo had this to say in remembrance:
Wilhelm will always be part of SFWA; it is woven into her legacy, and the organization is the poorer for this loss. She was one of the stars by which I sailed, and my map is darker now.