Nebula Awards Rules Changes: Associate Members Granted Voting Privileges, Game Writing Award Added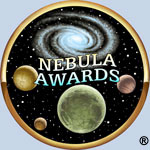 The SFWA Board of Directors and the Nebula Awards Committee are pleased to announce an extensive update to rules for the Nebula Awards®, including the Ray Bradbury and Andre Norton Awards, effective November 15, 2018.
The two most significant rule changes involve an expansion of voting privileges and a new Nebula Award category. Whereas previously, only Active Members of SFWA could vote in the Nebulas, Associate Members are now granted full voting privileges. Game Writing has been added a Nebula Award category. Eligible works are defined as "an interactive or playable story-driven work which conveys narrative, character, or story background."
These two changes are the results of lengthy, considered discussion by the Board and SFWA Awards Rules Committee (SARC), and reflect SFWA's commitment to inclusion, empowerment, and outreach.
For many years, becoming an Active Member of SFWA has been a landmark moment in a science fiction and/or fantasy writer's career, marking their ascent to the ranks of professional writers. But SFWA has always benefited from including Associate Members in our activities, as experts, volunteers, and colleagues. Welcoming Associate Members as full voters in the Nebulas represents an acknowledgement of the importance of the full life-cycle of a writer's career in our rich SFF publishing ecosystem.
In 2016, SFWA welcomed Game Writers as members. Game Writing is an increasingly important SFF storytelling medium that expands the realm of the possible in ever-changing ways. By establishing Game Writing as a separate Nebula category, SFWA is recognizing that as technology changes, the media for storytelling change, and excellence in writing is not confined to books, stories, and scripts.
The following is a summary of the Nebula Award rule changes:
Associate Members granted full voting privileges
Both Active and Associate Members in good standing may vote in the Nebulas. (Section 12.7)
Game Writing Nebula
This new category is defined as "An interactive or playable story-driven work which conveys narrative, character, or story background." (Section 5.5)
There is no word count requirement (Section 13.1)
To be eligible, a game must include at least one credited writer. (Section 6.6)
A new version of a game is eligible if substantive changes have been made. (Section 6.6)
Some minor changes
Audiobooks and podcasts have always been eligible in the appropriate category based on word count, but now they are explicitly mentioned. (Section 6.1.1)
The rule that allowed a novella to appear in the novel category has been removed. (Section 5.4.1)
SFWA members may request a paper ballot no later than two weeks before applicable ballot closing. (Section 11; Section 12.6).
Nomination numbers will not be released. (Section 11.2)
For the Ray Bradbury Award for Outstanding Dramatic Presentation, serial works must be nominated by individual episode. However, if there are no more than three connected episodes, a serial work may be nominated as a whole work. (Section 14.4)
Multi-author works will be awarded one trophy. Co-authors and translators will receive certificates. (Section 16.1)
The new rules are available at: