Five Paths to Break Into TV/Film as a Novelist
by Ellis Cube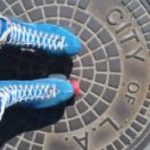 THE IP PATH
1) Right now, IP (intellectual property) is everything in Hollywood and by "everything" I mean its validation—both their and your proof of concept. If your novel draws attention or builds up a sizeable audience, executives/investors will feel more comfortable spending their money on adapting what you've created, and they'll come to you. Without a large audience, you're going to have a harder time getting anyone's attention because the work hasn't gotten attention. This means it will have to be marketed from scratch and in this new, Internet bifurcated world, Hollywood no longer wants to expend the dollars it takes to do that. That's partly because they haven't figured out how to do it effectively.
If you have a book or short story with a strong, commercial hook, but no readership to speak of, there's hope. Assuming the story can be adapted cheaply enough, marketers may feel confident they can reach the specific, niche audience your story appeals to. In this instance, it's the one-line concept that's selling it, not book sales.
THE MAKE SOMETHING PATH
2) Making something is another way to provide proof of concept (and also creates IP). Whether it's a web series, fiction podcast, short film, graphic novel or comic book, you're creating something that lives in the world for people to consume. If none of this sounds appealing because, I dunno—you're a novelist, not a filmmaker or someone who draws or wants to find (and pay) a crew or someone to do illustrations—don't worry about it. Just keep writing books as this is also a version of "make something" because of #1 (the IP path).
THE FELLOWSHIP PATH
3) Today, nearly all the major networks have fellowships designed to help writers break into TV (a comprehensive list can be found HERE (https://www.tv-calling.com/tv-writing-fellowships-the-big-six/) and HERE (https://nofilmschool.com/tv-writing-fellowships-launch-your-television-career). To apply, you will need to provide writing samples that are specifically written in TV format. This means learning how to adapt your own work and/or know how to capture the "voice" of a show currently on air. It should also be noted that many of these fellowships are super competitive. It has been said NBC's TV fellowship is harder to get into than Harvard. Since the network fellowships' intention is to try and staff you on one of their shows when the fellowship completes, you'll be expected to adapt to the voice of the show you're being hired to work on. When I was 25, I would have killed for an opportunity like this but 20 years ago these fellowships didn't exist. Now, I'm edging up on 50 and no longer have much interest in writing someone else's voice because I'm enjoying writing my own.
Maybe your book makes a better feature than a TV series. Well, good news. There are also fellowships for feature writers. You'll still have to learn how to adapt your work into proper screenplay format, but—and this is just my opinion—the more you can diversify your writing abilities by writing in these different formats, the more opportunities available to you. A comprehensive list of feature fellowships can be found here.
THE ASSISTANT PATH
4) Being an assistant isn't for everyone. Generally, this is a position for those just starting out. And even then, it isn't for everyone. Selling your feature as an assistant rarely happens. The odds are slightly better if you're working on a TV show, but even then, several variables will need to align, and none of them are in your control (which is what makes it a young person's game—this can take several years). For instance, the show you're working on has to stay on air long enough for you to get promoted. To get promoted, you have to be working on a show with a showrunner who believes in/is willing to promote from within. And, third, you'll need a writing sample that shows you're a good fit for the show you're on. These assistant gigs are extremely competitive. It takes living and working in LA for you to be in a position to land one. However, let's say you have an in with someone or somehow find your way onto a show—yay! You got one of the coveted spots, but it's on a procedural and you want to be a comedy writer. You probably take it anyway. This is the beginning of the road.
YOUR NOVEL SELLS, AND YOU'RE HIRED TO ADAPT IT PATH
5) Not everyone wants to adapt their own work, and that's totally fine. However, if you're still reading this it's because you are interested in writing for film and/or television (whether it's specifically to adapt your own work or to diversify your writing opportunities). Bottom line, keep writing novels, but start making time to learn how to write in these other formats so you're ready when the chance presents itself.
None of the advice here is absolute—it's merely an overview of possibilities from someone who worked in the entertainment industry in various capacities for 20+ years who realized she has a better chance breaking into writing for film/TV as a novelist and wants other novelists to know that if the interest and discipline is there, they can break in too.
•••
Ellis Cube is an award-winning screen and television writer, who worked in the entertainment industry since earning an MFA in Cinematic Arts from the University of Southern California in 1998. In 2012, Ellis left a post as the Senior Creative Executive in animation to write full-time. Ellis has since won the 2019 Writers for Writers Independent Author Fellowship with her middle-grade speculative fiction Shelby Sherman series. Ellis currently has a slipstream novella and several short stories on submission while developing her next book, a science-fiction invasion thriller.
Ellis' scripts have also won and placed in several screenwriting and television competitions including making the top 15% of the prestigious Nicholl Fellowship in screenwriting, winning Script Pipeline's First Look Project in the Fantasy category, and landing in the Top 25 of the Tracking Board's Launch Pad feature competition. The ISA selected Ellis' first original TV pilot for a reading at the 2016 Sundance Film Festival, and a supernatural pilot made the second round of the Austin Film Festival writing competition in 2018.
Regardless of the format, Ellis' fantasy and science-fiction stories explore the extraordinary in the ordinary and the ordinary in the extraordinary as her characters take on journeys of self-discovery where action, humor, and psychological twists abound. Find her at elliscube.com.