Now Available: The SFWA "Space is Big. Really Big." StoryBundle
Starting today, March 1, SFWA's newest StoryBundle, "Space is Big. Really Big.," is available for purchase! This StoryBundle offers a large selection of ebooks from independent and small press science fiction writers at one low price, and can be purchased at https://storybundle.com/space. It's only available for a limited time, so make your purchase before March 23!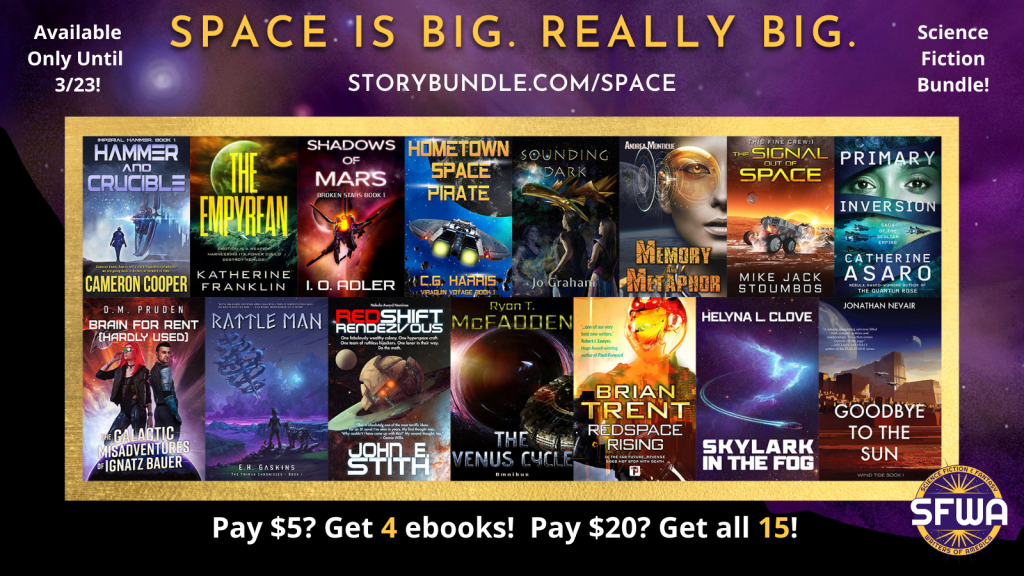 The "Space is Big. Really Big." StoryBundle features 15 science fiction books set in the vastness of space. Join us for tales of rogue AIs, pirates, ship-to-ship battles, and galactic politics all set in the biggest of tableaus: space. Perhaps the only thing bigger are the stories that take place within it. 
In Brain For Rent (Hardly Used), a conman wrestles a ship's AI that's taking up space in his skull. In Hometown Space Pirate, an unlikely protagonist fights to save an alien from a race of AI beings. Redshift Rendezvous is a hard science fiction work by John E. Stith, an author praised by Dan Simmons of Hyperion fame. Primary Inversion, by Nebula Award-winning author Catherine Asaro, features a bioengineered fighter pilot. In Skylark in the Fog, a group of space scavengers bite off a bigger adventure than they wanted and encounter a powerful enemy that can control AIs.
SFWA StoryBundles are collections of ebooks offered at a discounted price and curated by the SFWA Indie Authors Committee. The committee sorted through over nearly a hundred excellent submissions for this bundle, and the competition was very tough. 
Readers decide what price they want to pay. For $5 (or more, if they're feeling generous), they get the core bundle of 4 books in any ebook format available—WORLDWIDE! 
Hammer and Crucible

by Cameron Cooper

The Empyrean

by Katherine Franklin

Shadows of Mars

by I.O. Adler

Hometown Space Pirate

by C. G. Harris
If they pay at least $20, they get all 4 of the core books, plus 11 more books, for a total of 15. As a bonus, 2 of the books are newly packaged with their entire series, bringing your total number of books to 18 for the same low price!
Redshift Rendezvous

by John E. Stith

Redspace Rising

by Brian Trent

Memory and Metaphor

by Andrea Monticue

The Signal Out of Space

by Mike Jack Stoumbos

Primary Inversion

by Catherine Asaro

Rattle Man

by E.H. Gaskins

The Sounding Dark

by Jo Graham

Brain for Rent (Hardly Used)

by D.M Pruden

The Venusian Job

by Ryan McFadden

Skylark in the Fog

by Helyna L. Clove

Goodbye to the Sun

by Jonathan Nevair
Once March 23 passes, this particular collection will never be available again. Readers will gain a rich collection of science fiction and can opt to donate part of their purchase price to support SFWA's ongoing work to promote and support speculative fiction genres and writers. 
Questions about the StoryBundle can be directed to the Independent Authors Committee at Storybundle@SFWA.org.