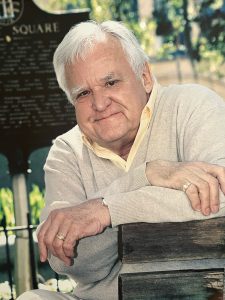 John Jakes (31 March 1932 – 11 March 2023) was a prolific, best-selling author known for detailed and character-rich historical fiction, as well as science fiction, fantasy, sword and sorcery, pulp, mystery, and nonfiction. Realizing the inherent power of historical fiction as a source of information, Jakes was known to take the accuracy of his works seriously. His eight-book series, The Kent Family Chronicles, sold tens of millions of copies between 1975 and 1979, and his North and South trilogy was adapted into a highly watched miniseries, running between 1985 to 1994. Jakes was the first author ever to have three books on the New York Times bestseller list in a single year.
Jakes was born in Chicago, sold his first short story at 18, married his wife, Rachel, the next year, and went on to write dozens of short stories and more than 60 novels, along with plays and other works. After 71 years of marriage, he and Rachel welcomed four children and eleven grandchildren. Over the decades, Jakes was a member of several professional societies including SFWA, and in 2002 he received a dual Celebrity and Citizen's Award from the White House Conference on Libraries and Information for his advocacy for public libraries. Jakes wrote with passion during his lifetime; he spoke often about his joy in infusing fiction with the dramatic. 
John Jakes lived 90 years.